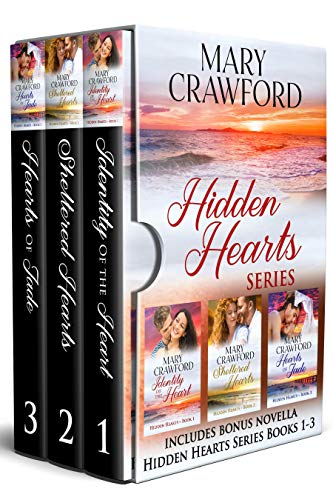 01/15/2022
Have you ever heard that love is contagious? Follow these friends as they fall in love and share the joy.
Identity of the Heart (Hidden Hearts #1)
The online dating profile was supposed to be just one more in the line of clever practical jokes between Marcus and his best friend Rogue.

When Ivy contacts Tristan to get to the bottom of a mystery with her online profile, none of them could imagine what they would find out about each other and themselves.
Sheltered Hearts ( Hidden Hearts #2)
Is it possible to fall in love with an online profile? Jessica has wondered that ever since she stumbled across Mitch's profile on a dating website. She never expected to come face-to-face with the handsome guy who has a soft spot for animals and search and rescue.

A stray dog Jessica named Hope changes all that in a hurry, and both of their lives may never be the same.
Hearts of Jade (Hidden Hearts # 3)
Jade views her life in terms of before and after. When her brother committed suicide, Jade thought her heart would never heal.
Declan has been friends with Jade for years, but he would like to be so much more. As a street musician, Declan wonders if he has anything to offer the talented tattoo artist.
When a series of adversities strike, Jade finds her heart softening toward the eccentric musician. Can they find the strength to work together to prevent one more tragedy in their lives?
Port in the Storm (Hidden Hearts Novella # 1)
Sam is the kind of guy who is everyone's best buddy. He had given up on the idea of ever finding his one true love. However, he is about to be knocked off his feet by the woman of his dreams.
Now, if Sam can only convince Taylor that not all men are evil, things would be perfect.
Digital Books

A story that is not streamlined with a particular genre is listed under others. These books generally have mixed content. Somewhere these books talk about romance and switch to suspense after a couple of pages and many other kinds of content can be expected from these books. Readers who are not too specific about the genre can pick any from others. If you have reading habits and can pick any without being so particular then others section is for you. Selecting a genre-specific book might be a tedious task for you. So just go easy. Happy Reading.
Famous Book Quotes
""Reading one book is like eating one potato chip."" ― Diane Duane, So You Want to Be a Wizard
View More