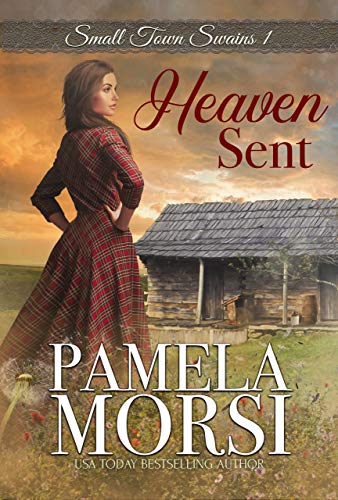 04/30/2022
From a USA Today Bestselling Author, Heaven Sent is an RT Reviewer's Choice Award, First Historical Romance Winner.
Hannah Bunch, the preacher's spinster daughter, wants to help heaven along by hatching a plan to bring a shy suitor up to the point of a proposal. The Bible had Ruth meeting Boaz on the threshing field. If that worked for Ruth, couldn't it work for Hannah? It did. It all went perfectly, except the wrong man got snared.
Henry Lee Watson likes his life—without a wife. He makes the finest corn liquor in the territory. A good business on Saturday night, does not always make a good marriage to a Sunday morning kind of woman. But it's a shotgun wedding and he's thinking that the starchy preacher's daughter is maybe she's not so starchy after all.
Pamela Morsi writes with great tenderness and insight. — Luanne Rice, NYTimes Bestselling Author
Read all the Small Town Swains!

Book 1: Heaven Sent

Book 2: Something Shady

Book 3: No Ordinary Princess

Book 4: Sealed With a Kiss

Book 5: Garters

Book 6: The Love Charm



Please note: This is NOT a Christian Romance.

Historical fiction is a literary genre in which the narrative takes place in the past. Historical books capture the particulars of the time as correctly as possible to get authenticities, such as societal norms, ways, habits, and traditions. Historical fiction is put in a real location during a culturally recognizable moment. The facts and the actions from the narrative can be a mixture of real occasions and ones in the writer's creativity as they fill in the gaps. Characters may be pure fiction or based on actual people. But what about them and their look and attitudes, how they talk, and issues that they face, everything which should match the era.
Famous Book Quotes
"The library is inhabited by spirits that come out of the pages at night." ― Isabel Allende
View More