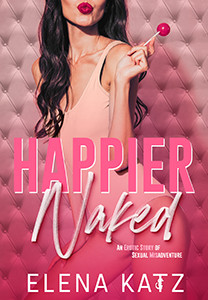 02/23/2022
When my husband and I first decided to open our marriage, I never expected to fall down the rabbit hole that is the modern dating scene. And yet, fall down I did, and luckily enough, it was right onto a…
Or two.
Or ten.
Hi! My name is Elena, and I'm a slut.
(Hi Elena!)
Thank you for having me, it's good to be here! *wink*
This is a funny story of lustful misadventure. You'll laugh, you'll cry, but mostly you'll laugh. So pull up a chair and pour that glass of wine, because things are about to heat up…
18+ adults only.
Erotic romance books are stories written concerning the growth of a romantic relationship through sexual interaction. Sex is an intrinsic part of the narrative, character development, and relationship development and may not be eliminated without damaging the narrative. To put it differently, it is fun, it's hot, and it could be prestigious. This means, where else can you spot sexy billionaires, rough war heroes, teachers that do not mind giving you D jokes. If you are passionate about your partner or love to read others' passionate sex or love story, then you should add this genre to your reading list. Here are some amazing erotic romance books online that you might like to read.
Famous Book Quotes
"Books are mirrors: you only see in them what you already have inside you." ― Carlos Ruiz Zafón, The Shadow of the Wind
View More