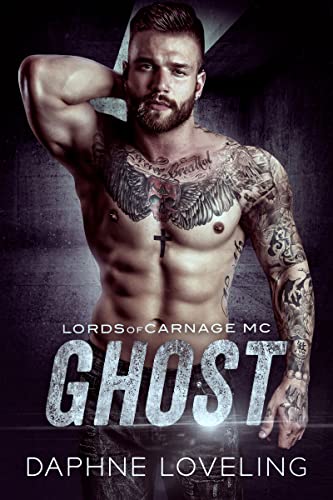 02/26/2022
Welcome to Tanner Springs, where the Lords of Carnage reign.

FROM USA TODAY BESTSELLING AUTHOR DAPHNE LOVELING:

CAS

They call me Ghost for a reason. Silent and in the shadows, I don't make my move until I am absolutely sure of everything.

Four years ago, I was sure about Jenna.
My best friend's kid sister had grown up into a sexy spitfire I couldn't resist.
One night we stopped resisting...

We promised we'd keep it a secret.
It was a one-time mistake, but we put it behind us.
Jenna left town, but I kept my word.

Now she's back, with a young son in tow.
She needs help. She needs protection.
This time, I'm not gonna let her go.
This time, I'm making my best friend's sister mine.

JENNA

He was my first kiss. My first love. My first broken heart.
And now if I'm not careful, he will break me all over again.

I left town without telling him I was pregnant.
I never told him he was the father.

Now I'm back, to find out that my brother's best friend has joined the same MC that tore my family apart.
The secrets and lies of the past are about to be laid bare.

I can't let myself fall in love with him.
I can't make the same mistake again.
But making mistakes with Casper Watkins is too hard to resist...

GHOST is a full-length, standalone second chance secret baby romance. You'll love this scorching-hot first book in the Lords of Carnage MC series. Ghost has NO cheating, no cliffhanger, and a guaranteed HEA with all the feels.

Digital Books

The military is a genre of fiction focusing on military actions, such as warfare, conflicts, battle, fighting, or army life. For example, the military genre can include an autobiography of a member of army personnel who did amazing things or decided that changed the tide of a war utilizing the new or radical military plan. Another autobiographical example maybe a president or other leader (based upon the country) who had been involved in political relations which started or finished a war with something of a military foundation or plan. The military genre may also have novels about weaponry or equipment.
Famous Book Quotes
"There is no mistaking a real book when one meets it. It is like falling in love." ― Christopher Morley, Pipefuls
View More