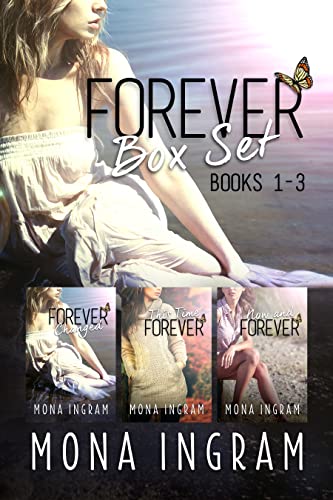 07/19/2022
The Forever Series Box Set – sweet stand-alone romances set in and around Victoria, British Columbia. The women in these stories have experienced the pain of heartbreak, and with the love and support of their friends, find the strength to love again. This starter set features the first three stories.
Forever Changed: A tattoo artist? Really? Whatever was she thinking? Breast cancer forces Ariana to take a fresh look at her life. She's married, owns a successful business and is desperately unhappy. Can tattoo artist Blaine Bennett reignite the joy in her life as he shows her what it is to live… and love?
This Time Forever: Why is a respected chef cooking in a remote diner? Really? You quit your job over principal? Nobody does that anymore. But Lexie doesn't play by other people's rules and when she agrees to work at a small diner in a remote location on Vancouver Island, owner Jesse Cooper can't believe his good fortune. But Jesse has secrets. Will Lexie bolt a second time when she discovers who he really is or can Jesse convince her he wants her for more than her cooking skills?
Now and Forever: Rule Number One: Don't fall in love On the worst day of her life, a small ray of sunshine creeps into Jenna's car – and her heart. She has her own problems but a heartbroken father and a runaway boy need her… at least for the summer. Leaving will be the hardest thing she's ever done.

Famous Book Quotes
"Outside of a dog, a book is man's best friend. Inside of a dog it's too dark to read." ― Groucho Marx
View More