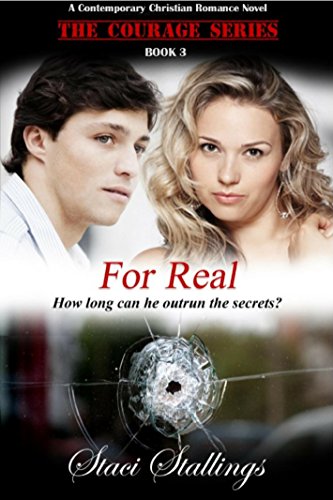 02/04/2022
Blaine Donovan has a secret, but so far his plan to keep the rest of the world in the dark about who he really is and what's really going on in his life has worked. If he can just finish school before the demons catch up with him, he knows he can make life make sense once again. However, when he runs into Melody Todd, a semi-friend he had thought was long-gone, life takes a turn Blaine wasn't at all expecting.

Still hurting from watching her best friend marry someone else, Melody Todd has given up on dating, guys, and herself. In fact, when Blaine shows back up in her life, she does what she always does with the eligible guys who look her way—she sets him up with someone else. But Blaine soon proves to be much different than he at first seems. Too many things are not adding up the way they are supposed to, and the more Melody digs, the more she sees that the Blaine she knows is not the real Blaine at all...

"For Real will show you how you can lay those things that are preventing you from loving Jesus at the foot of the Cross. It will inspire you and give you hope."

—Amazon Reviewer, Myrna Brorman

FOR REAL is a remarkable Contemporary Christian Romance Novel. It delves into and behind the masks we all wear, coaxing "real" from the internal and external secrets we all tend to hold about ourselves. Confronting such issues as body image, money, prestige, and power, the lessons this Christian fiction book presents are relevant for women and men alike. Many Christian romance novels seek to present God's truth in an engaging, inspiring love story. FOR REAL does this so deeply and faithfully that it will surely become a centerpiece in your collection of inspirational books.

*~* Excerpt *~*

A step down outside and Blaine turned to her. At that moment there was no denying the soul-wrenching misery in his eyes. "Thanks, Mel."

Her heart broke for him, for them. They were words she'd wanted him to say, but not like this, not with him walking down her sidewalk away from her. "You're welcome."

For one second he paused, and then he turned and strode away with Dylan a half step ahead of him. Halfway down the sidewalk, he replaced his sunglasses, and she felt the distance growing between them. At the car when he looked back up at her, it was the old Blaine, cool, calculating, and in control. As much as she didn't want it to, what she felt most was acceptance of how utterly impossible it was for them to ever be together. Even if he got his life on solid ground again, it was a sure bet he would find some svelte honey in slinky clothes and heels up to her neck.

Melody closed the door and wished reality didn't have to hurt so much.

Digital Books

Books in the contemporary fiction genre are composed of stories that may happen to real people in actual settings. The novels don't fall under other genres or categories. They often happen in precisely the same period that the reader is living (the present), with things that are now, or might be occurring, precisely the same period. The contemporary genre also contains conversational and casual dialogue and sometimes even regional dialects. Contemporary fiction novels will provide you a lot of choices to grow your life reading list. Writers, generally speaking, search for what's trending in their own time for their literary work since it lets them illuminate the weakness or strength of the society.
Famous Book Quotes
"Think before you speak. Read before you think." ― Fran Lebowitz, The Fran Lebowitz Reader
View More