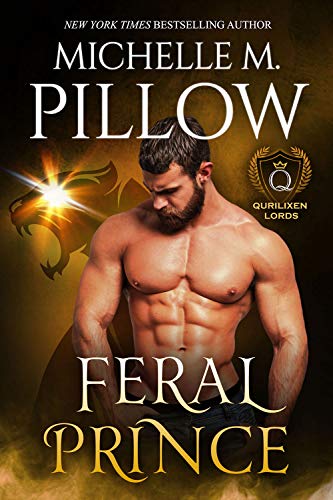 05/12/2022
From NY Times & USA TODAY Bestselling Author, Michelle M. Pillow, the much anticipated dragon shapeshifter romance, Qurilixen Lords!

Prince Roderic hates the diplomacy demanded of his position as a cat-shifter royal. As the son of a diplomat, he's all too familiar with the treaty surrounding the Federation military occupation, Shelter City. The shifters can't simply ask them to leave, or they'd risk retaliation. Discretion is the key, which includes not getting caught mingling with those under Federation protection. So crossing paths with the beautiful Justina is a mistake waiting to happen. She's frustrating and rash and doesn't mind drawing attention to herself. But, as fate would have it, she's also the one woman he wants to call his own.

For decades they have dealt with lies and deceit, but when the humanoid population under the Federation's control begins hunting shifters out of desperation, he knows things have gone too far. It's time to drive the Federation off his planet once and for all, even if that means losing his one chance at true love.
Dragon Shapeshifter, Paranormal, Science Fiction, Fantasy Romance
Part of the Qurilixen World
Digital Books





A story that is not streamlined with a particular genre is listed under others. These books generally have mixed content. Somewhere these books talk about romance and switch to suspense after a couple of pages and many other kinds of content can be expected from these books. Readers who are not too specific about the genre can pick any from others. If you have reading habits and can pick any without being so particular then others section is for you. Selecting a genre-specific book might be a tedious task for you. So just go easy. Happy Reading.
Famous Book Quotes
"Books are mirrors: you only see in them what you already have inside you." ― Carlos Ruiz Zafón, The Shadow of the Wind
View More