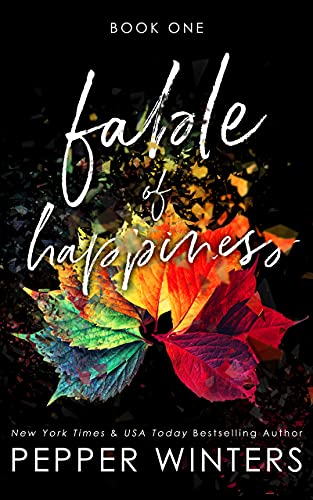 05/14/2022
It's the start of something huge.
From New York Times Bestseller, Pepper Winters, comes a new Dark Romance full of decadent angst and monstrous heroes.
A house hidden in the middle of nowhere.
A man who's lived alone for a decade.
A woman who trespasses on his solitude.
A love full of hate as well as hunger.
The thing about my life is...I was never in control of it.
I just I thought I was.
I thought I had everything figured out—a good career, fun hobbies, a bright future, but everything changed when I found an ivy-cloaked house, tucked in a forgotten valley, hiding a man who corrupted my world forever.
I thought I was successful, until he showed me fortune and happiness could be snatched away in an instant.
I believed I was blessed, but really, I was cursed.
Cursed to become a plaything for a monster.
Cursed to become a prisoner just because I trespassed.
Now, I know nothing.
I am nothing.
I'm just his.
FULL LENGTH BOOK. Please note this is a dark romance and not suitable for people who have triggers. Content included can be hard to read and only recommended for people who like dark romance.
"If you still haven't read anything by this author, and you're a lover of top-notch dark romance with a capital D wait no longer pick this up, hand over your mind, soul and heart in exchange for an amazing experience." – Greedy Thirst for Forbidden
"The level of steam and delicious lust pouring out of these pages... Holy.....hell." – Ash Chases Romance
"I highly recommend this book. I think lovers of the dark side will love it." – Lina's Reviews
"If you're a lover of twisted dark romantic mysteries with a slight beauty and the beast vibe towards the beginning you will love this. " – Miss Petite Brunette Book Blog
"I'm not ashamed to say I totally ignored my family and dined on this book; binge read it in a day. That's the effect all Peppers books have on me. From the minute I read the first page, I was glued to my kindle for the rest of the journey". – Kindle and Koffee Book Blog
"OMG, you'll be HOOKED RIGHT FROM THE START!! "– Avephoenix
I hope you might be surprised to know that Suspense isn't a genre in and of itself since it is a category that includes mystery, thriller, as well as some horror books. That novels which have a suspense story comes beneath the suspense group. If you're like to read novels that give you Suspense, then this category is right for you. To put it differently, if we discuss Suspense, then Suspense is a condition of psychological uncertainty, stress, being undecided, or being doubtful. At a dramatic function, Suspense is your expectation of the results of a plot or the remedy to a doubt, mystery, or puzzle, especially as it impacts a personality for whom you have sympathy.
Famous Book Quotes
"The world was hers for the reading." ― Betty Smith, A Tree Grows in Brooklyn
View More