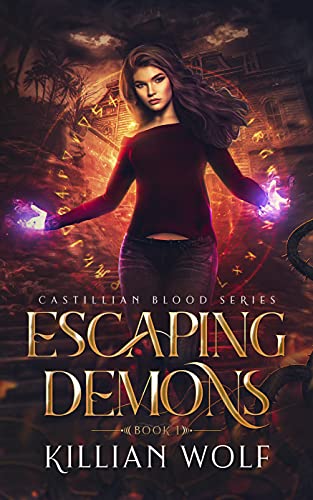 03/06/2022
One phone call landed me the perfect job. Too bad it didn't come with life insurance.

I didn't think this job would be anything special. Sure, the first phone call was weird, and yeah, maybe it wasn't the smartest idea to come to someone's house before I met them in person, but Dax seemed nice. All he wanted was a caretaker for his sick father.

Oh, and an exorcist for the spirits haunting his family's estate.

Now he's left me alone with his father, and the ghosts know my name. Caring for an old man with dementia, I can do. Fighting evil spirits? That's way above my pay grade.

But Dax has disappeared so I have to learn on my own or both Orlando and I might not live to see tomorrow...

Order of books:
Escaping Demons
Lying with Demons
Blood of Demons
Queen of Demons
Book 0: Dragons and Demons- The Villains Story
Escaping Demons is the first installment in the Castillian Blood series of paranormal suspense New Adult novels. Although this book doesn't have steam, expect some strong language and some sexy times throughout the series. Enjoy!
Digital Books




Scribd
New adult fiction is now a growing genre of fiction using protagonists in the 18-30 age bracket. In this genre, the publications are written for the age group of 18-30. New Adult is an emerging marketplace that attracts readers in their late teens and early twenties, which are too frequently missing from the pages of both Young Adult and Adult novels to the forefront. In this category, we generally saw some books on new situations and responsibilities that adults carry with them, how adults overcome their bad situations and some exciting stories that remind us about our adult phase.
Famous Book Quotes
"Classic′ - a book which people praise and don't read." ― Mark Twain
View More