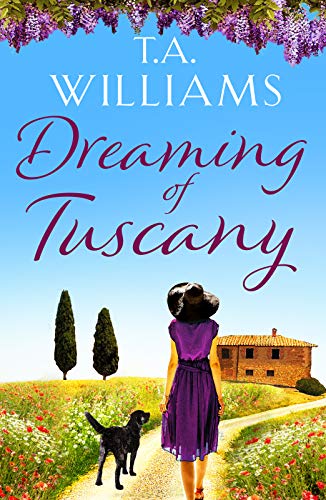 06/04/2022
The glamour of Hollywood. The magic of the Tuscan countryside. One big decision...
Beatrice Kingdom (Bee to her friends) wakes up in hospital in Tuscany. After an accident on a film set leaves her burned and scarred, she feels her whole life has been turned upside down.
Bee is offered the chance of recuperating in a stunning Tuscan villa in the company of a world-famous film star, the irascible Mimi Robertson. Here amid the vines and olive groves, Bee quickly finds there's more to the place than meets the eye, not least a certain Luca (and Romeo the dog).
As she comes to terms with her injuries and her new life takes shape, Bee will have to travel a road of self-discovery… and make a huge decision.
A joyous, funny and moving tale, Dreaming of Tuscany is a triumph, perfect for fans of Holly Martin, Tilly Tennant, and Jenny Oliver.
Praise for
Dreaming of Tuscany
'Full of wit and warmth that will leave you glowing like the Tuscan sunshine!' Debbie Viggiano, author of What Holly's Husband Did
'A beautiful evocative escape to Tuscany, with delicious food, stunning scenery and a wonderful, warm story ... a perfect summer holiday read' Holly Martin, author of the Sandcastle Bay series
'Such a beautiful read ... you could taste the wonderful food, it was so vividly written' Blue Yonder
'I loved every page. Can't wait to read more by this author' The Cosiest Corner
'Wow! This is contemporary romance at its best! The writing is exquisite … and the plot is brilliantly clever, captivating, and delightful with a little bit of drama, love, loss, and of course romance' WhatsBetterThanBooks
Digital Books


Scribd
Famous Book Quotes
"The best books... are those that tell you what you know already." ― George Orwell, 1984
View More