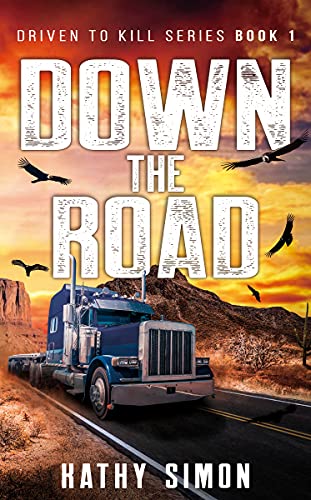 05/17/2022
She was an angel seeking darkness…
…he was a demon seeking rest
When they meet, the attraction is undeniable
He's a charismatic, attractive long-haul truck driver balancing his desire to kill with societal rules. She's an investigative journalist hot on his trail.
When Curtis becomes entranced by the striking green eyes of a competitive investigative journalist from Chicago, the shroud of secrecy he has woven regarding his double life begins to unravel. Could this man really be the killer she is searching for?
When he receives an anonymous message claiming to know who he really is, a cat-and-mouse game ensues; the hunter becomes the hunted.
As the body count mounts and the clock ticks down, Curtis realizes to stay alive, he must let her in his secret world. Will Kaylee truly love him once he lets down his mask? Or will she ruin his life forever?
Buy Down the Road today, because every girl secretly wants a bad boy!

Digital Books

Books in the contemporary fiction genre are composed of stories that may happen to real people in actual settings. The novels don't fall under other genres or categories. They often happen in precisely the same period that the reader is living (the present), with things that are now, or might be occurring, precisely the same period. The contemporary genre also contains conversational and casual dialogue and sometimes even regional dialects. Contemporary fiction novels will provide you a lot of choices to grow your life reading list. Writers, generally speaking, search for what's trending in their own time for their literary work since it lets them illuminate the weakness or strength of the society.
Famous Book Quotes
"If you go home with somebody, and they don't have books, don't fuck 'em!" ― John Waters
View More