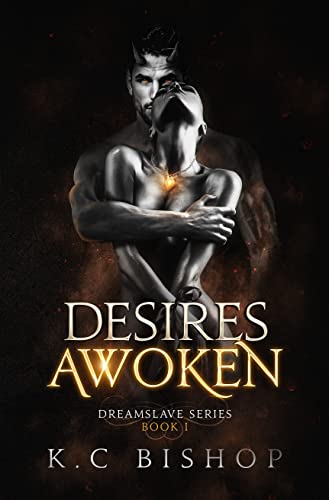 03/23/2022
He's seen your dreams. 
He knows your deepest, darkest desires - and he's capable of bringing them to life.
The only price?
Your soul...
After finding a magical amulet capable of making her wildest, wettest dreams come true, Annie, 24, and frustrated with life already, learns that the Half-demon she's been exploring her fantasies with expects nothing less than her soul as payment for her pleasure.
But as the game of dominance and submission progresses, both will discover a side of themselves they had hidden within. For Annie; the fulfilment of her most dangerous, delicious dreams causes her to begin realizing just how strong she really is - but can she bring out the humanity in this sex-starved demon of the dream-realm before she falls fully under his soul-consuming-spell?
The Dreamslave Series follows Annie, a young woman frustrated with the uneventful life she leads when she encounters a powerfully seductive demon of the dream-realm who promises to make all her wildest fantasies come true.
All he asks in return is total submission - something he's used to receiving - but as Annie delves deeper into the hidden parts of herself, she begins to learn of a power she'd kept hidden inside as well - and things might not go as smoothly as the irresistible prince of dreams had expected.
Join Annie (and friends) as she dives into a world of sex, danger, and ancient magic where all is not as it seems and the lines between fantasy and reality become blurred - possibly forever.
Dark fiction is just another term for horror; a fiction genre concerned with dread, death, and also the menacing side of human character. This isn't limited to written literature but encompasses a broad body of popular media, such as movies and television shows. Though such fiction isn't appropriate for all tastes, authors of horror maintain their work discusses important elements of the human experience. The term dark fiction is occasionally utilized to differentiate individual stories from the mainstream horror genre. These tales might be less fantasy-oriented than many horror fictions and comprise subtler emotional results. If you're a horror story lover, then you should add this particular genre to your reading list.
Famous Book Quotes
"Books are mirrors: you only see in them what you already have inside you." ― Carlos Ruiz Zafón, The Shadow of the Wind
View More