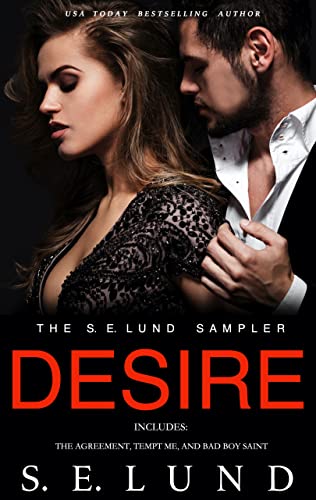 09/02/2022
Desire contains the first book in three of S. E. Lund's romance series, The Unrestrained Series, The McIntyre Brothers Series, and The Bad Boy Series.

The Agreement:

Drake Morgan, M.D. Neurosurgeon, bass player, philanthropist. Secret Dominant in Manhattan's BDSM community. He doesn't do girlfriends, he doesn't do sleepovers and he doesn't do breakfast in bed the morning after. He has his neurosurgery practice at New York Presbyterian, he has his Brit Rock cover band, Mersey, and he has his life as a Dominant. Everything is under his strict control. Then Kate McDermott walks into his life and everything changes. Now, his life is definitely not under his control for Drake is smitten. Things are going to get messy...

Tempt Me:
Mistaken identity leads to love in TEMPT ME, the first book in the new steamy contemporary romance series THE MACINTYRE BROTHERS SERIES from USA Today Bestselling Author S. E. Lund:
I thought my life was all mapped out – marriage to my very ambitious fiancé, a career in business writing and a family.
Then I found my husband-to-be in the middle of more than just dictation with his nubile young 'sexretary' Bunni.
That's Bunni with an 'i' just so we're clear.
Brokenhearted, I swore off men in general and office romances in particular. I escaped to Manhattan with the plan of starting a new life on my own two feet, free of my cheating fiancé.
Despite an initial disastrous encounter with sexy bicycle courier Josh, I couldn't help but admire his buff body, sharp mind and sense of humor. On top of it, he was a real gentleman, offering to help me when my life crumbled around me.
Maybe a crass and meaningless relationship of sex, sex and more sex with his hunky and very buff cyclist body would be good enough. He might not be my own Mr. Big, but a fling with him would sure beat another session with B.O.B.
Then I discovered that the sexy bicycle courier who stole my heart was none other than Joshua Macintyre Jr., one of America's richest bachelors.
Not only that, he's also my boss.
Now, I'm afraid I'm going to break all my rules about office romances…


Bad Boy Saint:

Despite the rumors that his family was tied to the Irish Mafia in Boston, all Celia Parker ever wanted was Hunter Saint, one of the notorious Saint brothers, whose family owns Saint Brothers Gym and Boxing Emporium located in Boston's warehouse district.

After one fantastic night together, Celia is forced to tell Hunter goodbye and their two families become enemies. Years later, Celia must go to Hunter to beg for his help saving her brother's life.

She's willing to do anything Hunter wants if he agrees to pay off Graham's debts.

Anything

Famous Book Quotes
"Books are mirrors: you only see in them what you already have inside you." ― Carlos Ruiz Zafón, The Shadow of the Wind
View More