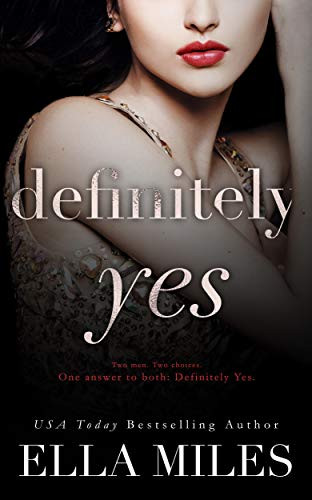 11/07/2022
One question from an ex-lover.

One text message from a complete stranger.

The same answer to both...Yes.

Scarlett Bell has found a way to move beyond a dark past that threatened to take her best friend, Kinsley, from her. Now ten years later Scarlett has everything. A multi-billion dollar fashion and beauty empire. A fabulous New York apartment filled with everything a girl could need. And an awesome best friend. What more could she want? Love, marriage, and a baby. Everything her best friend has.

One ex-boyfriend could give her everything she thinks she wants. Even if he is a little too nice...

One dark stranger could give her everything she never knew she wanted. But he could destroy her life...

Two men. Two choices. One answer to both: Definitely Yes.

Famous Book Quotes
"There are books of which the backs and covers are by far the best parts." ― Charles Dickens, Oliver Twist
View More