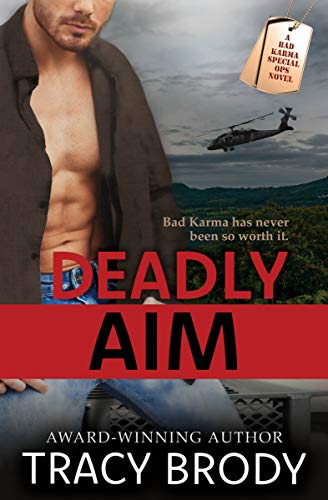 04/15/2022
A Special Ops sniper aiming for second chance at love. Only he's set his sights on a nearly impossible target, and now they're both targets of a deadly drug cartel.
★★★★★ Wow! Awesome book. If you love military Romance novels then this book is a must buy. It's well written with a storyline that flows well and is plenty hot and steamy. It has plenty of action and the storyline is believable. Tracy Brody has been officially added to my must read military Romance list. ~ Trish – Goodreads
★★★★★ I loved this story. The plot, characters, and writing are great. I was drawn in from the first page and kept hostage until the end. ~ Karen - Goodreads
★★★★★ … so addicting you couldn't put it down. So well written and definitely well worth the read. AWESOME STORY!!!! ~ Diane – Goodreads
★★★★★ Unputdownable...This book has action, intrigue, and steamy romance. Tracy Brody paints word pictures that put the reader right where she wants them. ~ Lynne - Goodreads
A MILITARY WIDOW TORN BETWEEN LOVE AND DUTY

Widowed Black Hawk pilot Kristie Donovan is determined not to fall for Mack Hanlon, the Army sniper she saved on a mission tied to a drug cartel. Army regulations about rank mean Mack is off-limits. Besides, she's not risking what's left of her heart on another man in Special Ops. But when Mack insists on protecting Kristie from a fellow soldier with a grudge, he sparks her hope for a second chance at love.

AN ELITE SOLDIER SHOOTING FOR ANOTHER CHANCE

Mack's marriage failed because his ex-wife was done with all things Army. Now he wants to find a woman who understands his drive to serve and protect—a woman like the attractive Black Hawk pilot who pulled off the daring rescue mission. All he has to do is break through her defenses.

A DEADLY CARTEL AIMING FOR VENGEANCE

Mack's victory is in sight when they learn the same cartel has targeted Kristie due to her connection to the men behind the death of the drug lord's son—Mack's Bad Karma Special Ops team. Though Mack is determined to protect Kristie, she has her own plan to keep herself, Mack, his daughters, and the Bad Karma team out of harm's reach. But when the cartel captures her before she acts, can Mack and his team save her from the drug lord aimed at getting vengeance against them?

Heat level: Steamy. Contains sexual content/on the page. Not overly explicit.
Profanity: Moderate (These are military characters)
Contains hunky heroes, a strong female heroine, and a military working dog.
The military is a genre of fiction focusing on military actions, such as warfare, conflicts, battle, fighting, or army life. For example, the military genre can include an autobiography of a member of army personnel who did amazing things or decided that changed the tide of a war utilizing the new or radical military plan. Another autobiographical example maybe a president or other leader (based upon the country) who had been involved in political relations which started or finished a war with something of a military foundation or plan. The military genre may also have novels about weaponry or equipment.
Famous Book Quotes
"Good friends, good books, and a sleepy conscience: this is the ideal life." ― Mark Twain
View More