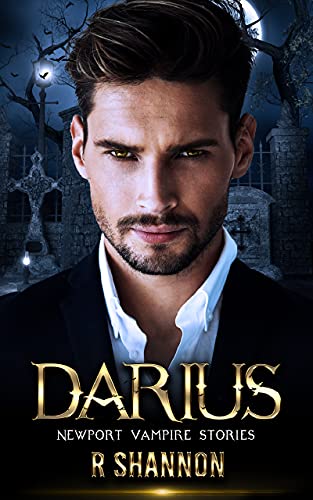 08/03/2022
★★★★★    A powerful vampire with a few too many vices and control issues ★★★★
★★★★★    Psychological suspense
★★★★★    Vampiric possession
★★★★★    A little 'maybe-illegal' stalking
★★★★★    Secret burials
★★★★★    Murder & mayhem
★★★★★    . . . all on Darius' quest for love 
John-Luke is a quiet, introvert who passed almost unnoticed through high school and college. He signed up for what he believed would be a quiet period of discernment at a monastery but then he ran first into what he thinks is a vampiress and then into the beautiful and distracting Genevieve, all on his first night. His life goes sideways.

Genevieve and Ciara Regan are being 'fixed up' by their wealthy, blue-blooded socialite mother who always has some kind of matchmaking scheme brewing for one or both of them. Ciara has learned to be 'quietly uncooperative' but her sister Genevieve is more rebellious. While dodging her mother's choices, the outgoing and vivacious Genevieve has her own covert husband-capturing scheme going on, and Ciara -- well, she loses hope that love is ever coming for her.

Darius Luca Lazarescu, a local mortician and owner of the Balmont Funeral Home and Cemetery Properties, is a vampire who has, over a few lifetimes, devised a workable survival plan where he feeds from two to three women, no one gets hurt, no new vampiresses are created and Darius remains under the radar at his funeral home and cemetery business.

Unfortunately, his dark vices get the better of him and he occasionally drinks too much alcohol or blood and that's when things really go upside down -- for all of them, including the mafia-hired private investigator who is looking for Big Sal Luciano's daughter who was last seen with Darius.

Life was somewhat calm for everyone until Darius' vices got the better of him and then he fell in love with the daughter of the local rich socialite.

Famous Book Quotes
"Make it a rule never to give a child a book you would not read yourself." ― George Bernard Shaw
View More