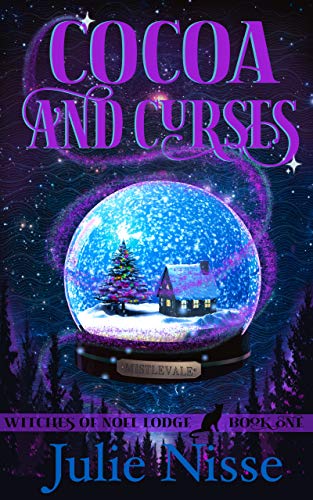 03/26/2022
Mix one part divorce, two parts very suspicious murder, and three parts snarky witches for a cocoalicious paranormal women's fiction novel about finding your power after forty!
All Liv Kolgrim wanted for her forty-first birthday was a nice dinner with her husband. What she got was divorce papers and the legs knocked out from under her very comfortable life.
Yearning for a fresh start, Liv punches the reset button on her life and retreats to her tiny hometown to plan her next move.
But her feet have barely touched Mistlevale's snowy streets when a body shows up at her family's cozy lodge. Even worse, local sheriff's deputy Gray Bauer wants Liv's cantankerous grandmother on the hook for the crime.
Now Liv's restful vacation has turned into a race to unravel the mystery before her poor Gran winds up in a cell. With a small-town cast of characters to investigate, delicious cocoa to drink, and an enormous semi-feral cat on her tail, Liv has more than her hands full.
And that's all before her family insists she take up the mantle of witchcraft that Liv's never really believed in.
Cocoa & Curses is the first book of the Witches of Noel Lodge, a paranormal women's fiction series featuring a trio of snarky witches, a heaping helping of holiday cheer, and enough magical mayhem to stuff a stocking.
Please note this book was originally published as Room With a Bloom. This new edition does not contain additional content.
In general words, the paranormal literary fiction genre comprises beings and happenings beyond the world of normal scientific comprehension of the natural world. Novels in the fiction genre are all put in the actual world. However, they comprise experiences that defy scientific explanation. For instance, stories put on earth contain angels, demons, witches, psychics, witches, etc. If you love to read some books with ghosts and angels, you must add this category to your reading list. Many books available in the market come under the Paranormal Genre, and you can buy them online or offline.
Famous Book Quotes
"I guess there are never enough books." ― John Steinbeck, A John Steinbeck Encyclopedia
View More