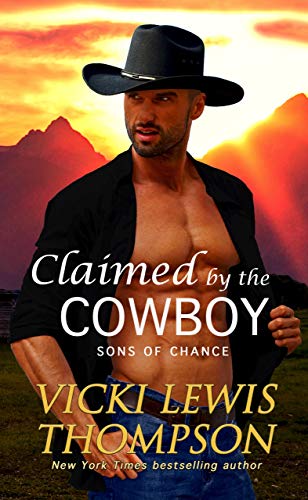 09/05/2022
He wants a second chance…

Rancher Jack Chance would rather face a ticked-off grizzly than admit he screwed up. But he didn't treat bar owner Josie Keller right and she's gonna demand some groveling. Not his style. Can he swallow his pride long enough to win her back?

Josie's heart shattered when Jack abandoned her. She doesn't trust that sexy cowboy as far as she can throw him. If he's the same old Jack, she'll heave him out of her life faster than he can say he's sorry. He can either man up and stake his claim... or lose her forever.


Saddle up for the Sons of Chance series! Steamy western romances from the NYT bestselling author who brought you The Buckskin Brotherhood of Apple Grove, Montana. If you like sexy cowboys, charming small towns, and laugh-out-loud adventures, you'll love meeting the residents of the Last Chance Ranch.


Note: This title was originally published as CLAIMED!


SONS OF CHANCE

The books in this series are standalone romances and can be read in any order.

What a Cowboy Wants
(Nick & Dominique)

A Cowboy's Temptation
(Gabe & Morgan)

Claimed by the Cowboy
(Jack & Josie)

Should've Been a Cowboy
(Alex & Tyler)

Cowboy Up
(Clay & Emily)

Cowboys Like Us
(Logan & Caro)

Count on a Cowboy
(Wyatt & Olivia)

The Way to a Cowboy's Heart
(Matthew & Aurelia)

Trust in a Cowboy
(Rafe & Meg)

Only a Cowboy Will Do
(Nash & Bethany)

Wild About the Cowboy
(Luke & Naomi)
Famous Book Quotes
"I guess there are never enough books." ― John Steinbeck, A John Steinbeck Encyclopedia
View More