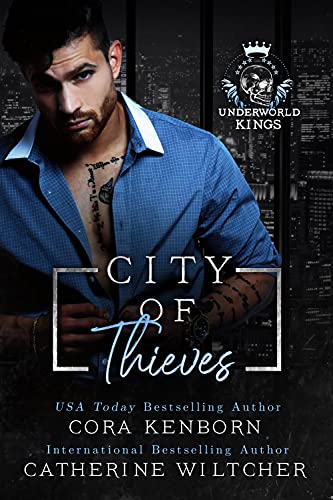 03/22/2022
From USA Today bestselling authors Cora Kenborn and Catherine Wiltcher comes a new mafia romance standalone where love is the most dangerous crime of all...

This city tells a story of a man seeking vengeance...

Renzo Marchesi gives me two choices when he walks into my art gallery:
Help him find his brother's killer or suffer the consequences.

He's a mafia prince...

Heir to the Marchesi throne.
A man consumed by his demons.
Beautiful.
Ruthless.
I don't belong in his world, and he doesn't belong in mine.

Still, I'm not the spoiled politician's daughter he thinks I am...

This is the City of Thieves, where lies are hard currency and deception is the real art.
Trust no one.
Love no one.
Too bad I don't follow my own rules...

They say black arrows make for bleeding hearts.
Now, I'm planning the ultimate heist for a man who never misses.

City of Thieves is an enemies to lovers mafia romance with no cliffhanger and a guaranteed HEA. For mature readers only.

Books in the contemporary fiction genre are composed of stories that may happen to real people in actual settings. The novels don't fall under other genres or categories. They often happen in precisely the same period that the reader is living (the present), with things that are now, or might be occurring, precisely the same period. The contemporary genre also contains conversational and casual dialogue and sometimes even regional dialects. Contemporary fiction novels will provide you a lot of choices to grow your life reading list. Writers, generally speaking, search for what's trending in their own time for their literary work since it lets them illuminate the weakness or strength of the society.
Famous Book Quotes
"A half-read book is a half-finished love affair." ― David Mitchell, Cloud Atlas
View More