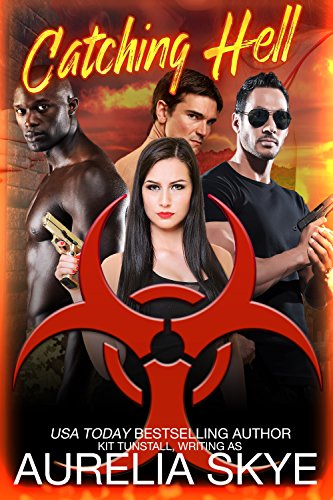 02/24/2022
The HLV virus, dubbed Hell Virus by the survivors, wiped out ninety percent of the population. Running low on supplies, Alyssa has to leave the safety of her sanctuary to find food. She's ill-equipped to deal with a SHTF situation, and she's nearly raped on her first run. A small squad of military men save her and take her in, with the stipulation she becomes a fully functioning member of their team. She wants to learn how to take care of herself, but she also finds herself wanting to take care of the soldiers in creative and unexpected ways. Life without pleasure is pointless, but when she's already lost everything else, can she risk losing her heart to the group?

Alyssa is learning about survival and how to love more than one person. If the idea of a polyamorous relationship with multiple men bothers you, this probably isn't the series for you. If you enjoy sex with your survival, and you'd like to indulge in the fantasy of having a group of hot military men at your command, you'll probably enjoy this story. Guaranteed happily ever after with no cliffhangers.

Be aware this is definitely on the steamy side and appropriate for 18+ only. It's a new adult title and not intended for young'uns.

Digital Books

The military is a genre of fiction focusing on military actions, such as warfare, conflicts, battle, fighting, or army life. For example, the military genre can include an autobiography of a member of army personnel who did amazing things or decided that changed the tide of a war utilizing the new or radical military plan. Another autobiographical example maybe a president or other leader (based upon the country) who had been involved in political relations which started or finished a war with something of a military foundation or plan. The military genre may also have novels about weaponry or equipment.
Famous Book Quotes
"If a book about failures doesn't sell, is it a success?" ― Jerry Seinfeld
View More