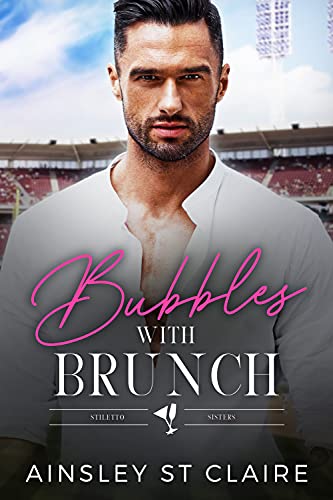 02/03/2022
If your best friend was arrested for murder? Would you lie or tell the truth?

Axel
I don't want complicated, drama, or serious in the women I date.
That was until I met her.
Mia's different—she's beautiful, smart, and knows baseball better than I do.
Her close friend is arrested for murder and life becomes complicated.
Chaos engulfs her.
Drama colors all parts of her life.
And, maybe serious wouldn't be so bad.

Mia
Life's not as easy for me as people think.
Sure I'm CEO of a Fortune 50 company I founded.
I've got a group of girlfriends who'd doing anything for me.
But I can't meet a decent guy to save my life until I met him.
Axel makes my toes curl and my heart melt.
But the timing may just be wrong.

Bubbles with Brunch is a romance with a happy ending and the first book in the The Stiletto Sisters series. This series is about strong women who need strong men. This book can be read as a stand alone that highlights the women seen in the Venture Capitalist Series and the Tech Billionaire series.
Digital Books

Books in the contemporary fiction genre are composed of stories that may happen to real people in actual settings. The novels don't fall under other genres or categories. They often happen in precisely the same period that the reader is living (the present), with things that are now, or might be occurring, precisely the same period. The contemporary genre also contains conversational and casual dialogue and sometimes even regional dialects. Contemporary fiction novels will provide you a lot of choices to grow your life reading list. Writers, generally speaking, search for what's trending in their own time for their literary work since it lets them illuminate the weakness or strength of the society.
Famous Book Quotes
"Books are the mirrors of the soul." ― Virginia Woolf, Between the Acts
View More