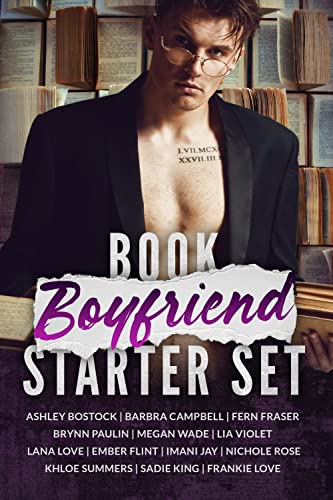 04/10/2022
Looking for the perfect boyfriend?
Look no further than this Book Boyfriend Starter Set.
Between billionaires, mountain men, firefighters, bosses, curvy women, and insta-love, these stories will take you from your ho-hum workday to staying awake all night.
The Book Boyfriend Starter Set has ALL of your favorite tropes.
* enemies to lovers
* second chance
* workplace romance
* sports
* instalove
* friends to lovers
* small town
* fake engagement
Happily Ever Afters are guaranteed!

A story that is not streamlined with a particular genre is listed under others. These books generally have mixed content. Somewhere these books talk about romance and switch to suspense after a couple of pages and many other kinds of content can be expected from these books. Readers who are not too specific about the genre can pick any from others. If you have reading habits and can pick any without being so particular then others section is for you. Selecting a genre-specific book might be a tedious task for you. So just go easy. Happy Reading.
Famous Book Quotes
"If we encounter a man of rare intellect, we should ask him what books he reads." ― Ralph Waldo Emerson
View More