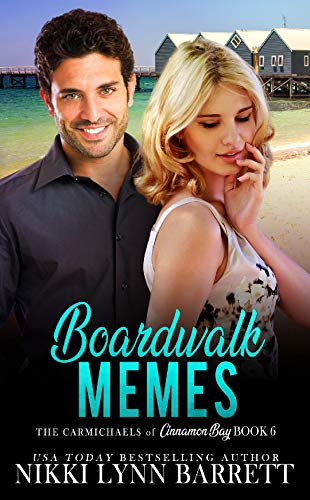 02/25/2022
Behind every smiling photo, there's a woman who longs for so much more...

Aspen Carmichael never meant to become famous. When her nemesis took a photo of her, making Aspen's private pain very public in a meme, the photo ended up changing her life in ways she couldn't comprehend.

Now a successful model with an Instagram page full of memes with positive quotes, everyone's watching Aspen's next move. She yearns to be more than a pretty face, but an embarrassing childhood secret holds her back. Returning to Cinnamon Bay for the grand opening of The Factory forces her to confront her dysfunctional family. She's led them all to believe she's unreliable, because that lie is less painful than the truth.

Xander Gannaway promised himself if he ever saw Aspen again, he would apologize for his part in making that meme. A scandal rocked his own world and hindered his chances at a career locally, so now he understands the pain she must have gone through. When she hides in his family owned bookstore, the opportunity lands in his lap. What he doesn't expect is the instant attraction he has toward her.

When Xander discovers Aspen's secret, he vows he'll be the one to help her reach her goals, but where does their strong attraction lead them in the end run?

Fans of Brenda Novak, Nora Roberts, and Robyn Carr will fall head over heels for this delightful beachy romance.

Meet the Carmichael siblings, each with their own unique personality like the different spices that helped build the family fortune. Some are hot and fiery, others mild and sweet. Some blend well together. Some don't. Now that their wealth is gone, they must put aside their differences and come together for the first time. Follow each sibling on their path to survival and their journey into everlasting love. Scroll up and one-click to start reading the final installment of the Carmichaels of Cinnamon Bay, BOARDWALK MEMES, by USA Today bestselling author Nikki Lynn Barrett today!

Digital Books

Books in the contemporary fiction genre are composed of stories that may happen to real people in actual settings. The novels don't fall under other genres or categories. They often happen in precisely the same period that the reader is living (the present), with things that are now, or might be occurring, precisely the same period. The contemporary genre also contains conversational and casual dialogue and sometimes even regional dialects. Contemporary fiction novels will provide you a lot of choices to grow your life reading list. Writers, generally speaking, search for what's trending in their own time for their literary work since it lets them illuminate the weakness or strength of the society.
Famous Book Quotes
"I guess there are never enough books." ― John Steinbeck, A John Steinbeck Encyclopedia
View More