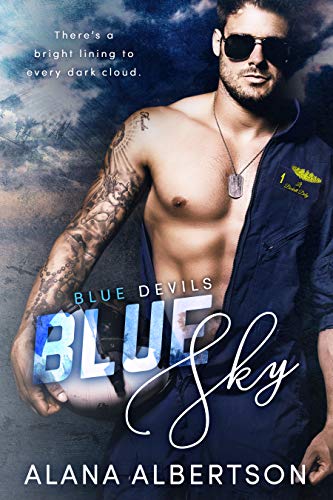 02/05/2022
Don't sleep with the nanny.

The one rule I swore to myself that I would obey. As a United States Naval Officer and a pilot for the world famous Blue Angels, I always play by the rules.

Hell, I make the rules.

And I never break them

Until I meet Paloma.

I can't ignore how she makes me feel alive again after I was certain that my heart was closed to love.
We have nothing in common besides our love for my daughter.

I'm rich; she's poor.

I'm her boss; she's my employee.

I'm dead inside; she's full of life.

Despite our differences, I let lust control my actions and kiss her like it's the last night of the world.

Which it is, because our passionate kiss has changed my life forever.

I may be a Blue Angel, but she has woken the devil inside.

And I'll do anything to make her mine.

Alana Albertson brings you an emotional love story between a widowed Blue Angel pilot and the one woman who is forbidden to him—his baby's nanny.

Blue Sky is an epic standalone, slow burn, ugly cry romance.

Digital Books





Scribd
Books in the contemporary fiction genre are composed of stories that may happen to real people in actual settings. The novels don't fall under other genres or categories. They often happen in precisely the same period that the reader is living (the present), with things that are now, or might be occurring, precisely the same period. The contemporary genre also contains conversational and casual dialogue and sometimes even regional dialects. Contemporary fiction novels will provide you a lot of choices to grow your life reading list. Writers, generally speaking, search for what's trending in their own time for their literary work since it lets them illuminate the weakness or strength of the society.
Famous Book Quotes
"The worst thing about new books is that they keep us from reading the old ones." ― Joseph Joubert
View More