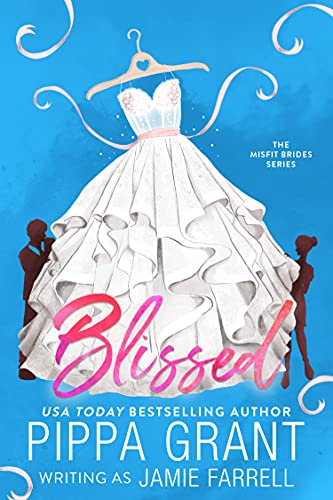 02/01/2022
Welcome To Bliss, the Bridal Capital of the Midwest!

Single mom Natalie Castellano isn't feeling so blissful these days...
Natalie's made a career out of screwing up all over her hometown. But it's redemption time, and she's putting on her big girl panties to make sure this year's bridal festival goes off without a hitch. Even if it means she has to play nice with the man who broke her fairy tale.

She's definitely not the one for him. Or is she...
World adventurer and reluctant local hero CJ Blue doesn't want to be in Bliss anymore than Natalie wants him here. But family obligations have brought him back, and now, and now he's somehow been roped into saving the town tradition he'd rather forget with the woman whose kiss he can't forget. She frustrates him and drives him nuts but he's had more fun giving her a hard time about the bridal festival than he has in years.

And their fun is just starting...
Despite their rocky past, these two wounded souls have more in common than they expect. They've both loved and lost, they've both tried to move on, and now they've both been been banned from the local church confessional after...well, they're not supposed to talk about it. But by joining forces for the sake of Bliss, they might find the courage and the sparks to risk love one more time.

Note: BLISSED was previously published for like 5 minutes many years ago as THE HUSBAND GAMES. Publishers Weekly called it a "Marvelous romantic comedy" in a starred review and named it as a "Self-Published Star" of 2014.

Digital Books

Those books that give you pleasure and laugh, we could declare them Comedy or Funny Books. Humor is a funny thing that can allow you to improve your work-life balance. Pinpointing exactly what an individual will discover funny is not a specific science. There are many different varieties of comedy, but what makes it funny is a matter of opinion. Comedy books differ from person to person since some people find them humorous while others don't. There are thousands of comedy books available in the offline or online market. Comedy books will keep you away from all-day tensions or problems that you have in your life.
Famous Book Quotes
"A room without books is like a body without a soul." ― Marcus Tullius Cicero
View More