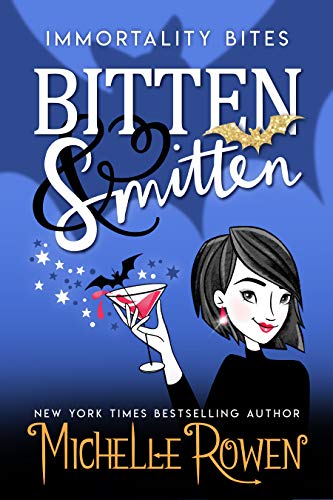 05/13/2022
Book #1 in the Immortality Bites series! My name is Sarah Dearly, and I'm having a week from hell—literally. My blind date bit me and made me into a vampire, and now I'm being chased all over the city by vampire hunters who want to introduce me to their wooden stakes.
While fleeing for my life on four-inch stilettos, my path crossed with the most gorgeous man I've ever met. Thierry de Bennicoeur is a sexy, 600-year-old master vampire with a death wish. And here's my plan: I'm going to convince him to guide me in my dangerous and unpredictable new vampire life, and in return, I'll show him that life's still worth living. To complicate matters, a vampire hunter named Quinn is after me, and he can't seem to decide if he wants to kill me or kiss me.
Being a vampire sucks, but it sure isn't boring!
"Rowen hits the nail (or is it the stake?) on the head with her feisty debut novel…a true modern girl's guide to (vampire) life." – Publishers Weekly
AUTHOR NOTE: Bitten & Smitten was previously published in 2006 by Grand Central Publishing. This edition has been edited and updated from the original manuscript.
Those books that give you pleasure and laugh, we could declare them Comedy or Funny Books. Humor is a funny thing that can allow you to improve your work-life balance. Pinpointing exactly what an individual will discover funny is not a specific science. There are many different varieties of comedy, but what makes it funny is a matter of opinion. Comedy books differ from person to person since some people find them humorous while others don't. There are thousands of comedy books available in the offline or online market. Comedy books will keep you away from all-day tensions or problems that you have in your life.
Famous Book Quotes
"Books are a uniquely portable magic." ― Stephen King, On Writing: A Memoir of the Craft
View More