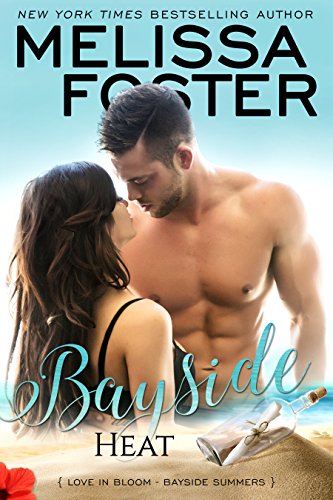 01/14/2022
Fall in love at Bayside, where sandy beaches, good friends, and true love come together in the sweet small towns of Cape Cod. Bayside Summers is a series of standalone steamy romance novels featuring alpha male heroes and sexy, empowered women. They're fun, flirty, flawed, deeply emotional, always passionate, and easy to relate to.

In BAYSIDE HEAT...
Drake Savage has always done the right thing, especially where beautiful and fiercely determined Serena Mallery is concerned-even when it means keeping his feelings for her to himself. Serena has always wanted more than what their small town of Wellfleet, Massachusetts has to offer, and Drake's roots are so deeply entrenched in the Cape, it's all he can do to watch her pack up her life and move away.

Serena has always had big dreams. As a teenager she dreamed of becoming an interior designer and marrying smart, musically inclined, sexy-as-sin Drake Savage. Now she's finally landed a killer job with a top interior design firm, but though she has spent the last four years working side by side with Drake, he's never made a move. Four years is long enough for her to accept reality, and her new job in Boston is the perfect way to move on.

A weak moment leads to sizzling, sensual kisses, opening a door through which they've both been aching to walk. But Serena's determined not to give up her shot at the career she's always dreamed of, and Drake has loved her for too many years to stand in her way. With true love at their fingertips and a world of unstoppable passion igniting between them, can the two star-crossed lovers find their way to their happily ever after?


***
Bayside Summers is part of the Love in Bloom romance collection by New York Times & USA Today bestselling and award-winning author Melissa Foster. While each book may be read as a standalone, you might enjoy reading the entire Love in Bloom series.

Digital Books





Books in the contemporary fiction genre are composed of stories that may happen to real people in actual settings. The novels don't fall under other genres or categories. They often happen in precisely the same period that the reader is living (the present), with things that are now, or might be occurring, precisely the same period. The contemporary genre also contains conversational and casual dialogue and sometimes even regional dialects. Contemporary fiction novels will provide you a lot of choices to grow your life reading list. Writers, generally speaking, search for what's trending in their own time for their literary work since it lets them illuminate the weakness or strength of the society.
Famous Book Quotes
"If we encounter a man of rare intellect, we should ask him what books he reads." ― Ralph Waldo Emerson
View More