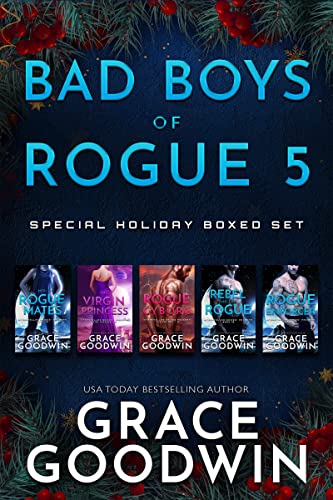 12/13/2022
This special holiday boxed set is only available for a limited time!
Her Rogue Mates: No rules. No laws. No mercy. She belongs to them now…

His Virgin Princess: Gage must conquer the wild huntress who came for him in the dark and stole his heart.

Rogue Cyborg: He'll do anything to regain his freedom, including agree to a bargain with a beautiful, cunning warrior with secrets of her own.

The Rebel and the Rogue: They don't need the criminals to kill them, they just might finish each other…if they don't fall in love first.

Rogue Enforcer: Rogue 5 is no place for a naïve female, especially one as beautiful, sensitive and completely WRONG for Cormac as Abigail Gregg.

Famous Book Quotes
"Good books don't give up all their secrets at once." ― Stephen King
View More