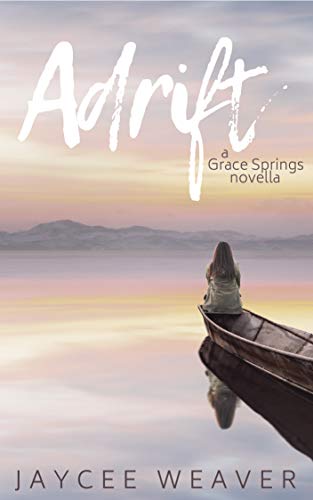 04/25/2022
I'm overwhelmed.

Truth be told, I've been overwhelmed for years. Adrift in a sea of stress and grief and clinging to the life raft of responsibility. It's time I start swimming again. And someday? Maybe surf the waves instead of being pulled under and dragged out to sea.

God offers so much more for Erin than a life of treading water, focusing all her time and attention on running a small business while raising her kids after the death of her husband.

Through strangely poignant dreams and a series of run-ins with an unexpectedly attractive guy from church, Erin finds the hope she'll not only feel alive again, but maybe even ride life's waves victoriously.

Packed with vibrant imagery, Adrift is the first of a planned Grace Springs novella series but can be read completely stand alone.

This little novella really packs a punch. Wow! Good from beginning to end. Even that one line that ripped an unexpected sob right out of my chest. Really, wow. –Andrea, GoodReads review ★★★★★

I don't usually read novellas but this was a bittersweet love story. It wasn't too sappy or too cliche. It was almost as if the author understood the feelings she was pouring into her story. –JARC, Amazon review ★★★★

Wow. What an amazing little novella. I'll admit my opinion of novellas has improved in recent years, but it's still a rare pleasure to find a novella that can deliver such an emotionally satisfying story in such a short space of time—and this one was shorter than many, taking a bit under an hour to read. But the imagery! That's what really blew this story out of the water, if you'll forgive the completely intentional pun. –Fiction Aficionado ★★★★★
In simple words, the novel penned by a Christian worldview, a way of viewing the world separated through the facts shown in the Bible, is called Christian books. It implies a sovereign God who made everyone and everything; it believes we are responsible to
God
for our decisions, promises, and activities; it feels we require forgiveness and redemption and that it comes only through the person of Jesus Christ. There are two types of Christian Books:
Christian fiction
Christian fiction books are those books that overtly display elements of Christianity in the story, mixing things like prayer, conversion, church.
Christian non-fiction
Christian non-fiction is normally overt in its use of Biblical beliefs to explain an appropriate subject.
Famous Book Quotes
"Good books don't give up all their secrets at once." ― Stephen King
View More