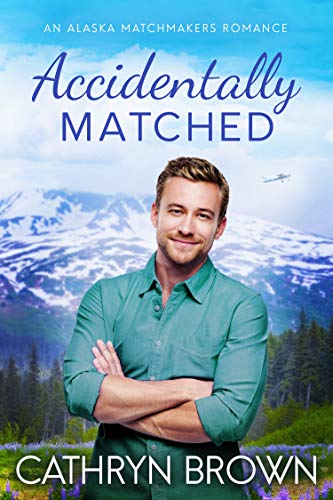 05/25/2022
Rachel needs to fly to a small town in Alaska. Handsome pilot Noah is going that direction. If only a matchmaker didn't try to help.
Rachel's never chosen her own path in life. She's in Alaska to bring her brother back to manage the family business. The business she wants to run.
But she does what she's asked.
Noah's an Alaska pilot who's more interested in his airplane than romance. His brothers and parents are important to him, though. And his matchmaking mother is at it again.
A short airplane ride turns into an adventure. Rachel and Noah will have to protect their hearts.
Matchmakers don't always win. Or do they?
If you enjoy Hallmark movies and sweet romance with a dash of fun, Accidentally Matched and the Alaska Matchmakers series may be right for you.
Buy
Accidentally Matched
now to find out if the match worked!
You may have met Noah's brother, Adam, in Crazy About Alaska. Adam has four brothers and each will find love in the Alaska Matchmakers Romances.
This is a standalone book which is part of a series. It's clean and wholesome with no sex or swearing. The author is from Alaska, so she knows the real Alaska.
Alaska Dream Romances
Falling for Alaska - Jemma & Nathaniel
Loving Alaska - Bree & Michael
Merrying in Alaska - Leah & Ben
Crazy About Alaska - Holly & Adam
Alaska Matchmakers Romances (Adam's Brothers)
Accidentally Matched - Noah & Rachel
Finally Matched - Mark & Maddie
Hopefully Matched - Jack & Aimee
Merrily Matched - Joe & Molly
Surprisingly Matched - Andy & Samantha
A clean love is simply a means to spell out a love story that will not include explicit sex, excessive gore and violence, and profanity. The category is started by amazon. This new category helps readers that desire the love and emotion without particulars of this romantic bedroom kitchen/car/outside / etc.--gymnastics to discover exactly what they're looking for. You may read this book with your family. This class is specially created for readers that are uncomfortable reading fantasy books with sexually explicit material, an excessive amount of blood and guts, and a lot of f-bombs.
Famous Book Quotes
"Books are mirrors: you only see in them what you already have inside you." ― Carlos Ruiz Zafón, The Shadow of the Wind
View More