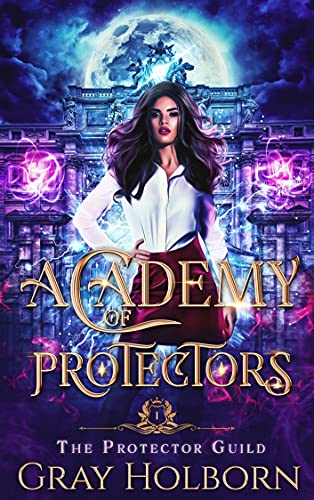 04/23/2022
You know what's annoying? Having your first real date interrupted by a werewolf and a hellhound.
I've lived a pretty boring, secluded life, hiding amongst humans on the outskirts of a small town. But when the demons I've heard stories about show up at my front door, everything changes. Suddenly, I have to trade in my quiet life for a whole new world filled with violence, secrets, and magic.
As if enrolling in The Guild wasn't difficult enough, I'm forced to work with a team of mysterious protectors who think I'm as repulsive as the demons they're training me to kill. They don't seem to want me around, but I can't deny that something beyond my control is drawing us together—even when I try to escape them, I just get pulled closer into their orbit.
Icing on the cake? For some reason, the demons I'm supposed to be hunting down are coming after me instead. Nothing about this new life is at all like how I thought it would be. If I can't figure out who to trust and fast, I'm screwed.
◆ ◆◆ Academy of Protectors is the first book in The Protector Guild series, so there will be a cliffhanger. Max's story is a slow-burn, urban fantasy series. She will end up with multiple partners. Get ready for action, spice, and intrigue. ◆◆◆

The Protector Guild Universe:

Standalone

Saving the Protector (four years before Academy of Protectors)

The Protector Guild Series

Academy of Protectors (Book One)
Forging the Guild (Book Two)
Dreams of Hell (Book Three)
Hell and Back (Book Four)
Abyss of Ruins (Book Five)
Fashioned by Flames (Book Six)
Dark Before Dawn (Book Seven)
Gay pulp fiction or homosexual pulps refers to published works, chiefly fiction, that comprise references to male homosexuality, especially male homosexual sex, and finely produced, commonly in paperback publications made from wood pulp paper; lesbian pulp fiction is comparable work about girls. LGBT topics in Hindu Epics involve Hindu divinities or characters whose characteristics or behavior can be translated as lesbian, homosexual, bisexual, transgender, or gender change and non-heterosexual sexuality. We all deserve to see that our lived experiences are reflected from the pages of a great publication. And like the rest of the literary canon, LGBTQ novels arrive in all genres.
Famous Book Quotes
"Sleep is good, he said, and books are better." ― George R.R. Martin
View More