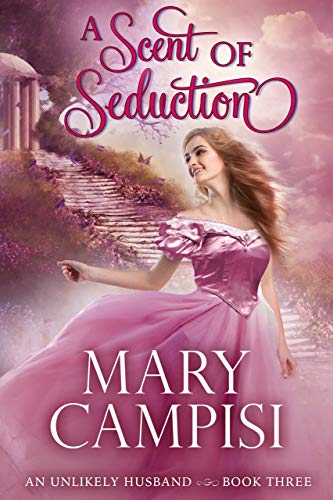 01/30/2022
Love and Betrayal…Regency style

English noblewoman, Julia Langford wants nothing more than to escape the constraints of a society that demands she turn in her breeches and secure a husband. She cares nothing about men or love until she encounters daring sea captain, Jon Remmington, a man who steals her heart and her innocence with searing kisses and bold touches.

Jon Remmington sails the sea avoiding anything that resembles commitment—until he meets the golden-haired temptress with a will to match his own. One night of passion binds them together but a debt of honor forces Jon to abandon his bride. When he discovers Julia is caught in a dangerous game of intrigue, Jon devises a secret plan to return to her side where he will risk his life to protect her and earn the chance to rekindle the greatest love either has ever known.

An Unlikely Husband Series:
Book One: A Taste of Seduction (Francie & Alexander's story)
Book Two: A Touch of Seduction: a novella (Ariana & Jason's story)
Book Three: A Scent of Seduction (Julia & Jon's story)
Book Four: A Breath of Seduction (Sophie & Holt's story)
Book Five: A Dash of Seduction (Madeline & Douglas's story)

Bonus Material: Included in this eBook is a sample of A Breath of Seduction, An Unlikely Husband, Book 4.

Historical fiction is a literary genre in which the narrative takes place in the past. Historical books capture the particulars of the time as correctly as possible to get authenticities, such as societal norms, ways, habits, and traditions. Historical fiction is put in a real location during a culturally recognizable moment. The facts and the actions from the narrative can be a mixture of real occasions and ones in the writer's creativity as they fill in the gaps. Characters may be pure fiction or based on actual people. But what about them and their look and attitudes, how they talk, and issues that they face, everything which should match the era.
Famous Book Quotes
"Many a book is like a key to unknown chambers within the castle of one's own self." ― Franz Kafka
View More