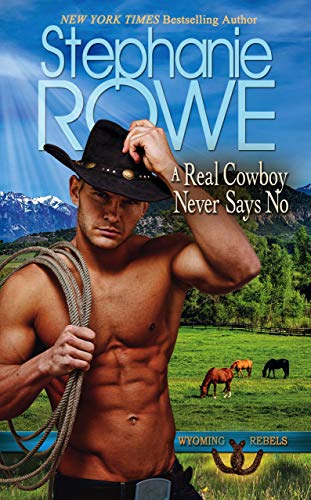 07/10/2022
He never intended to marry...but when he meets a single mom-to-be in danger, all his plans change. She'll do whatever it takes to protect her baby, including marry a cowboy she's just met.

★★★★★ "I want to climb into this book." ~Amanda C (Five-star Amazon Review)

Confirmed bachelor Chase is too busy with his ranch for love. When a friend calls in a favor, Chase must open his home to a sassy, sexy mom-to-be who needs his protection. But he's not prepared for the sizzling attraction that threatens the shield around his heart.

Mira is single, pregnant, and on-the-run. When the distractingly handsome cowboy offers her a marriage of convenience, it's the lifeline she needs. But when she starts to fall for the sworn bachelor, she realizes that her heart might also be in danger.

Can a rugged rancher who doesn't believe in love fall for a spunky city girl with a baby?

If you like sexy cowboys, sassy humor, and heart-melting romance, you'll adore Stephanie Rowe's captivating modern-day marriage-of-convenience story! Grab this "must-read" series starter today!

Contains:
Secret baby.
Heroine in danger.
Marriage-of-convenience.
Lots of feels.
Slow-burn romance.
Humor.
Nine hot cowboy brothers who are intensely loyal protectors.

★What do readers think?★

★★★★★ "Wow! I can't believe how much I loved this book. Who doesn't love a strong sexy cowboy, right? I know I do…A little love goes a long way when it comes to healing one's heart." ~Cindy F (Five-star Amazon Review)

★★★★★ "There is nothing sexier than a man in a cowboy hat. Especially if that man is a cowboy through and through. Chase is the kind of man everyone needs in their life. Sexy, strong, kind, generous." ~Charity S. (Five-star Amazon Review)

★★★★★ "Tender, loving, and exquisite." ~Cherry L. (Five-star Amazon Review)

★★★★★ "WOW, WOW, WOW...AWESOME READ." ~T.P. (Five-star Amazon Review)

★★★★★ "OH. MY. GOSH! This was the best book I've read in a really, really long time." ~jenny7 (Five-star Amazon Review)

★★★★★ "A beautiful, moving love story!"~PLP45 (Five-star Amazon Review)

★★★★★ "Wonderful." ~Cherry L. (Five-Star Amazon Review)

★★★★★ "So much yes!!!!! Just so beautiful!" ~Amanda C (Five-star Amazon Review)

About the Author: New York Times and USA Today bestselling author Stephanie Rowe is "contemporary romance at its best" (Bex 'N' Books). She's thrilled to be a 2021® Vivian Award noimee, and 2018 winner and a five-time nominee for the RITA® award, the highest awards in romance fiction. As the bestselling author of more than fifty books, Stephanie delights readers of all romance genres with her always sigh-worthy contemporary romances, paranormal romances, and romantic suspense novels.

Famous Book Quotes
"Good friends, good books, and a sleepy conscience: this is the ideal life." ― Mark Twain
View More