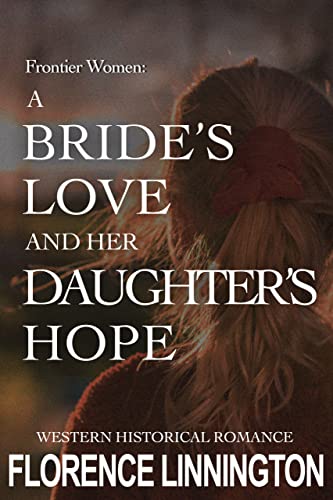 04/29/2022
Harriet is running for her life, and she is fleeing with her daughter, to the Old West.

When Harriet's unfaithful husband dies, her wealthy mother-in-law threatens to take her child Alyssa away. Harriet is pushed to make a snap decision and flees out west with Alyssa.

As the mother and daughter duo head into uncertainty, Harriet is prepared to gamble on another uncertainty – seeking a matchmaking agency to help her marry a stranger and learn how to live in the wild west.

Bounty hunter Collin Crawford is a man who needs nothing and no one. While he tries to convince himself that he is merely returning criminals to face justice, his faith in the work is beginning to waver.

When the beautiful Harriet steps into Collin's path, everything he believes begins to be tested. And, when he realizes that his next job points to none other than Harriet and little Alyssa, the bounty hunter must face a terrifying decision: will he bring Alyssa back to her grandmother, or will he give up everything he's ever known to fight for the woman who has stolen his heart?

Even if Collin chooses love, he knows Harriet and Alyssa are still being tracked by other bounty hunters – those who would do anything to win the enormous reward that Alyssa's grandmother has placed on her head. Even if it means cutting down anything and anyone that stands in their path.
In simple words, the novel penned by a Christian worldview, a way of viewing the world separated through the facts shown in the Bible, is called Christian books. It implies a sovereign God who made everyone and everything; it believes we are responsible to
God
for our decisions, promises, and activities; it feels we require forgiveness and redemption and that it comes only through the person of Jesus Christ. There are two types of Christian Books:
Christian fiction
Christian fiction books are those books that overtly display elements of Christianity in the story, mixing things like prayer, conversion, church.
Christian non-fiction
Christian non-fiction is normally overt in its use of Biblical beliefs to explain an appropriate subject.
Famous Book Quotes
"A half-read book is a half-finished love affair." ― David Mitchell, Cloud Atlas
View More