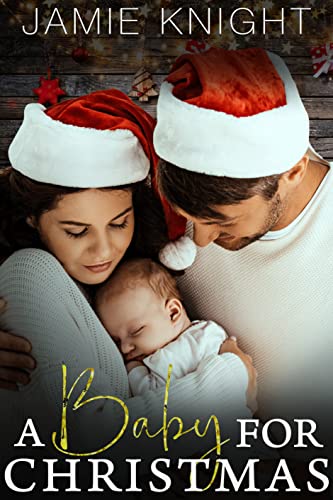 02/12/2022
The last thing I thought I wanted for Christmas was a baby.
But now the thought is filling me with holiday joy!

It was only supposed to be a one-night stand.
A drunken night after a holiday party.
But Niko and I can't keep our hands off each other.
We have to go back again and again.
Both of us saying we only want a fling each time.
Until a little plus sign appears on my pregnancy test.
And things get very real very quickly.
I can't tell him I'm knocked up, can I?
He said he didn't want anything serious.
And yet now he says he wants to claim what's his.

Will this unexpected holiday surprise tear us apart?
Or will there be gifts for our family of three...
under next year's Christmas tree?

A Baby for Christmas is a standalone secret baby holiday romance blending heat, humor and heart. Jamie Knight always promises to bring you a happily ever after filled with plenty of heat. And never any cheating or cliffhangers!

Those books that give you pleasure and laugh, we could declare them Comedy or Funny Books. Humor is a funny thing that can allow you to improve your work-life balance. Pinpointing exactly what an individual will discover funny is not a specific science. There are many different varieties of comedy, but what makes it funny is a matter of opinion. Comedy books differ from person to person since some people find them humorous while others don't. There are thousands of comedy books available in the offline or online market. Comedy books will keep you away from all-day tensions or problems that you have in your life.
Famous Book Quotes
"Outside of a dog, a book is man's best friend. Inside of a dog it's too dark to read." ― Groucho Marx
View More