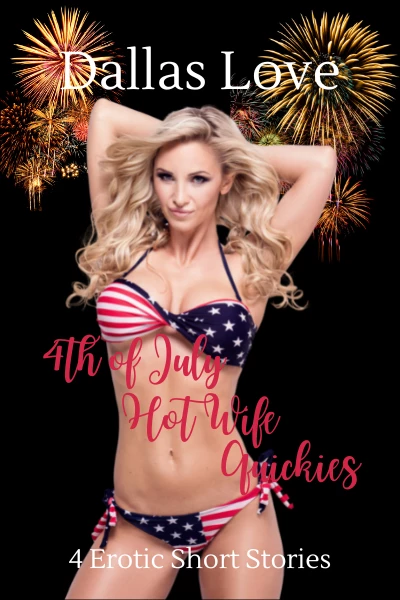 07/09/2022
They are sexy and alluring, hot and greedy because...

...they want more than their husbands can or will give.

They want more out of their sex life and are bold enough to do something about it. They want some variety and spice in their bedroom and are willing to go outside the marriage to find it, with their husband's permission of course. Whether they've just had fantasies about the pool boy, wanted a bull to plow their fields, or craved the touch of the rugged lumberjack, they have the desire and sex appeal to make it happen.

They are hot wives.

This holiday themed anthology includes four short stories of sexy hot wives looking for some extramarital bliss on the 4th of July.

The sun's out. The temperature is hot.

And these hot wives' temperatures are rising.

Find these four stories within.
Pool Boy

. Brittany who has never had sex outside her marriage but has had fantasies about the pool boy Andre. When she discusses the fantasy with her husband things are set in motion.

Netflix and the Bull

. Whitney, a lawyer's wife, who is an experienced hot wife but has never been with a well endowed black man. When she meets Jacob at the gym, she knows she wants to experience him as her bull.

Circle Jerk Fantasy

. Lauren has a taboo fantasy that she hasn't even shared with her husband and with the help of some of her Hot Wife boyfriends she plans to make it happen on the 4th of July. She is expecting more fireworks in her hotel room than those outside.

Lumberjack's Wood

. Annika has everything a wife in Wild Rose could expect except some mind-blowing sex. If her husband can arrange for one of his employee's, Morgan, a lumberjack, to be at their 4th of July party, she can change all of that.
You'll love this anthology of sexy hot wife stories if you enjoy taboo, steamy stories about women exploring their sexuality with alpha men outside their marriages.

Famous Book Quotes
"I cannot sleep unless I am surrounded by books." ― Jorge Luis Borges
View More