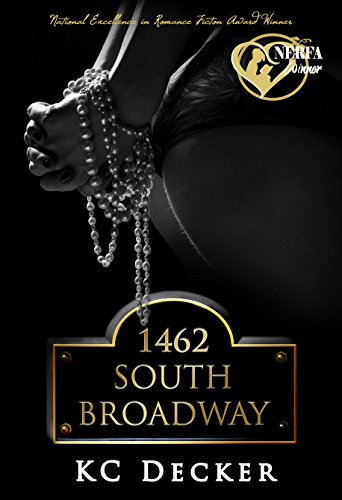 10/03/2022
National Award-Winning Erotic Romance Novel!

2017 Winner of the National Excellence in Romance Fiction Award!

It's said that a bird never has to doubt the stability of her branch because her trust is in her own wings.

I myself, am trying to grow some wings of my own, but I'm kind of mired in place right now.

My roommate fondly calls my situation a rut and seems to think he knows how I can climb out of it.

The problem with his solution is that he's stone-cold crazy.

There is no way in hell I'm going to a sex club.


Sizzling contemporary romance author KC Decker takes readers on a steamy, erotic ride in her fully complete Jessie Hayes Series. All four books are a smoking hot example of how kink and BDSM can be sexy and playful instead of always brooding or deviant. Follow Jessie Hayes on her intensely erotic journey of BDSM, kink, sexual awakenings and ultimately, deep, abiding love.


FIVE STAR REVIEW FROM READERS' FAVORITE:

Reviewed by Christian Sia on May 6, 2017.
***** KC Decker's 1462 South Broadway is book one in the Jessie Hayes series, a sizzling contemporary romance with a huge potential to entertain fans of the genre. In a deliciously crafted story, the reader is introduced to an exotic world of eroticism and a sexually famished Jessie Hayes in the quest for sexual pleasures. She is the kind of woman who could have been fulfilled, but she is not. She has a keen sense of adventure, surrounded by great friends, plus she has a good job, but then one thing doesn't seem to work for her — men. And this is until she discovers 1462 South Broadway.
Apart from Fifty Shades of Grey — which wasn't particularly interesting to me — I have hardly read anything in this genre, but I was able to complete this book in two sittings, and I mean complete it as in completely absorbed in it. KC Decker is a skilled writer who creates very compelling characters, exploring the most powerful and hidden emotions in them. Jessie Hayes may seem very normal from the outside, but deep inside her is a crazy longing, a fire that burns but that doesn't consume. There is something powerfully weak about her and readers will connect with her emotions, her longing, and her sense of sensual adventure very easily. The plot is well-imagined and the author did a tremendous job to clear the work of any clichés that are often associated with this genre. The writing itself is sexy, crisp and well-polished. If the characters won't seduce you, the author's powerful prose will. It is steamy and exhilaratingly entertaining, the kind of story that will drive a reader over the edge.
Famous Book Quotes
"Literature is a luxury; fiction is a necessity." ― G.K. Chesterton
View More