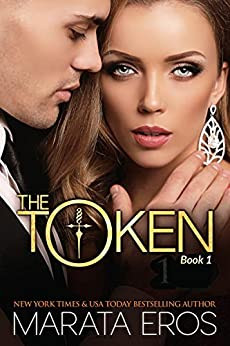 02/27/2021
SAVE $6 - get the COMPLETE series: tinyurl.com/TheTokenCompleteMega
A #1 Amazon Bestselling Interracial Romance series.
Readers:" ...Brilliantly DARK and shockingly RAW The Token will leave you BREATHLESS..."
" ... a WICKEDLY smart plot that SEDUCES you from the very beginning ..."
From New York Times, USA Today and #1 Interracial Romance bestseller Marata Eros, comes an original billionaire romance about first love, betrayal and loss.
Faren Mitchell is everyone's favorite physical therapist.
Caring.
Brave.
Empathetic.
Liar.
Underneath the self-sacrificing brave front that everyone admires, is a woman who understands the terrible sacrifice she'll make for those Faren loves--namely, her mother--as the horrific secret of her past chases her.
Until she meets Jared McKenna, who gives her~
A reason to live.
To hope.
To love.
Jared McKenna is everyone's hated billionaire.
Hot.
Athletic.
Aloof.
Premier flesh club owner.
This billionaire can have any woman. He has. When he runs into Faren Mitchel with his Harley, tenderness awakens, along with Mick's typical indifference.
But Faren can't admit she's working at one of Mick's strip clubs--or--that she has months to live. Faren believes she needs money more than she needs love.
When the psychopath from her past catches up with Faren, she's forced to be honest with Mick.
Will her confession come too late to save her: Save them?
Digital Books




I hope you might be surprised to know that Suspense isn't a genre in and of itself since it is a category that includes mystery, thriller, as well as some horror books. That novels which have a suspense story comes beneath the suspense group. If you're like to read novels that give you Suspense, then this category is right for you. To put it differently, if we discuss Suspense, then Suspense is a condition of psychological uncertainty, stress, being undecided, or being doubtful. At a dramatic function, Suspense is your expectation of the results of a plot or the remedy to a doubt, mystery, or puzzle, especially as it impacts a personality for whom you have sympathy.
Famous Book Quotes
"I cannot live without books." ― Thomas Jefferson
View More