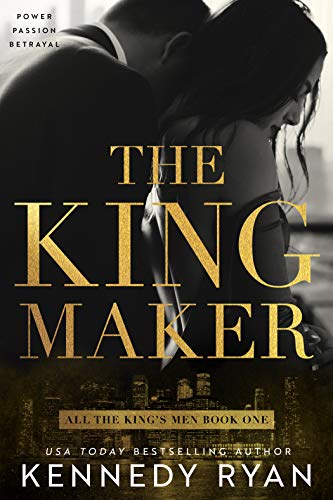 01/03/2022
Power. Passion. Betrayal.

Raised to rule, bred to lead and weaned on a diet of ruthless ambition.
In a world of haves and have nots, my family has it all, and I want nothing to do with it.

My path takes me far from home and paints me as the black sheep. At odds with my father, I'm determined to build my own empire. I have rules, but Lennix Hunter is the exception to every one of them. From the moment we meet, something sparks between us. But my family stole from hers and my father is the man she hates most. I lied to have her, and will do anything to keep her. Though she tries to hate me, too, the inexorable pull between us will not be denied.

And neither will I.

THE KINGMAKER is the epic and powerful first installment in the All The King's Men Duet by USA Today bestselling and RITA® Award winning author, Kennedy Ryan.

Books in the contemporary fiction genre are composed of stories that may happen to real people in actual settings. The novels don't fall under other genres or categories. They often happen in precisely the same period that the reader is living (the present), with things that are now, or might be occurring, precisely the same period. The contemporary genre also contains conversational and casual dialogue and sometimes even regional dialects. Contemporary fiction novels will provide you a lot of choices to grow your life reading list. Writers, generally speaking, search for what's trending in their own time for their literary work since it lets them illuminate the weakness or strength of the society.
Famous Book Quotes
"Books are mirrors: you only see in them what you already have inside you." ― Carlos Ruiz Zafón, The Shadow of the Wind
View More