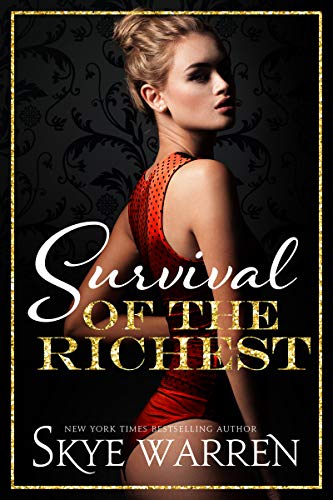 01/09/2022
Two billionaires determined to claim her.
And a war fought on the most dangerous battlefield–the heart.

"Skye Warren absolutely owned me with Survival of the Richest. A twisty, raw exploration of money, greed, love, and lust, you'll be left with your heart in your throat and hooked on the pages to discover what's coming next! An absolute must-read." ~ A.L. Jackson, New York Times & USA Today bestselling author

"What an incredible book! Survival of the Richest has everything — Skye Warren's beautiful writing, a sexy, compelling story; intricate characters, and a provocative love triangle that will captivate you until the very end." ~ New York Times bestselling author Nina Lane

My story starts with a plunge into the cold water of Manhattan's harbor. A strong hand hauls me back onto the deck of the luxury yacht. Christopher was supposed to be my enemy. Instead he protects me with fierce determination.

That should have been my happily ever after, but then Sutton appeared–ruthless and seductive. He doesn't care that my heart belongs to someone else, because he's determined to win. No matter the cost.

It's an impossible choice, but I can't have them both.

A story that is not streamlined with a particular genre is listed under others. These books generally have mixed content. Somewhere these books talk about romance and switch to suspense after a couple of pages and many other kinds of content can be expected from these books. Readers who are not too specific about the genre can pick any from others. If you have reading habits and can pick any without being so particular then others section is for you. Selecting a genre-specific book might be a tedious task for you. So just go easy. Happy Reading.
Famous Book Quotes
"A house without books is like a room without windows." ― Horace Mann
View More