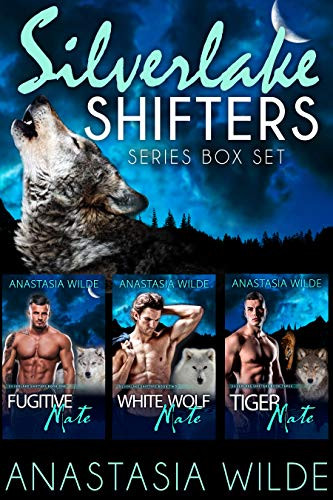 02/21/2021
All 3 Silverlake Shifters books in 1 hot box set!

Over 650 pages of smokin' hot shifter wolves, strong passionate women, secrets, lies, and danger—and breathtaking romance you can sink your fangs into!

Fugitive Mate
Jace, Alpha of Silverlake, is on the hunt for the True Mate who will save his pack. Emma is on the run from her criminal ex. One wild night entwines their lives—and seals their fate…

White Wolf Mate
Pack Second Rafe can't forget the mysterious shifter woman who saved his life. But Terin is hiding from a dark past she can't remember, and it's about to catch up with her—unless Rafe can find her in time…

Tiger Mate
Sophia is a half-breed shifter with a deadly secret that could destroy two wolf packs—or save them. And Jesse, the Silverlake Negotiator, is willing to break his own deal and risk everything to have her for his own…

3 complete, full-length novels with HEA's! Get it now, and get ready for some wild steamy nights with the Silverlake wolves!

In general words, the paranormal literary fiction genre comprises beings and happenings beyond the world of normal scientific comprehension of the natural world. Novels in the fiction genre are all put in the actual world. However, they comprise experiences that defy scientific explanation. For instance, stories put on earth contain angels, demons, witches, psychics, witches, etc. If you love to read some books with ghosts and angels, you must add this category to your reading list. Many books available in the market come under the Paranormal Genre, and you can buy them online or offline.
Famous Book Quotes
"I lived in books more than I lived anywhere else." ― Neil Gaiman, The Ocean at the End of the Lane
View More