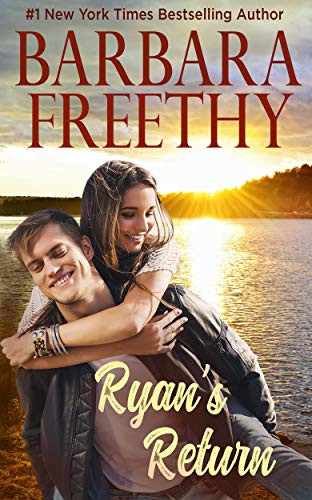 02/21/2021
"RYAN'S RETURN is a superlative novel that proves everyone can indeed go home again." Debbie Macomber
Famous photojournalist Ryan Hunter has come back to a family torn apart by mistrust and resentment—to the father who disowned him, to the brother who betrayed him, to the little boy who shares his features. Ryan, the charismatic "bad boy" son, has returned—stirring up past conflicts like a whirlwind, and throwing Kara Delaney's fragile, passionate heart into turmoil.
Kara has struggled back from a disastrous marriage to build a new life for herself and her little girl­—a peaceful existence now jeopardized by vicious, small town politics, by her daughter's fanciful ghost stories, and by Ryan's return. Now nature's impending fury threatens to expose long-buried secrets. Kara must join with the enigmatic, misunderstood Ryan to discover the truth that will save their families...and to explore a dangerous, irresistible love as mighty and enduring as the onrushing river.
From # 1 NYT Bestselling Author Barbara Freethy comes an emotional and romantic standalone contemporary novel.
PRAISE FOR BARBARA FREETHY BOOKS
"Barbara Freethy delivers strong and compelling prose in RYAN'S RETURN." Publishers Weekly
"Rising contemporary star Barbara Freethy hammers home deep and complex emotions in RYAN'S RETURN, a wonderful and powerful book." Romantic Times Magazine
"I couldn't put this book down. The characters where brought to life as the pages turned. A truly moving story. Ryan is courageous, smart, hot!!" Krystal - Goodreads Review on Ryan's Return
"This book kind of has a Nora Robertsish feel to it for me, I really enjoyed it. It has romance, family drama, small town politics, and even a little paranormal aspect thrown in. If you're looking for a sweet, tug-at-your-heartstrings, easy read this is it!" Shannon - Goodreads Review
"What an exhilarating read! The river for me actually became a living breathing person that controlled, guided, destroyed, and finally brought understanding and love to the characters in the story. The bonds between father and sons, mothers and daughters were so real and heartrenching that you couldn't help but identify with their struggles, fears, passions, weaknesses and finally cling in to their own recognition of the real truth and how it released them to finally embrace the life they were meant to live." Simone – Goodreads Review on Ryan's Return
Books in the contemporary fiction genre are composed of stories that may happen to real people in actual settings. The novels don't fall under other genres or categories. They often happen in precisely the same period that the reader is living (the present), with things that are now, or might be occurring, precisely the same period. The contemporary genre also contains conversational and casual dialogue and sometimes even regional dialects. Contemporary fiction novels will provide you a lot of choices to grow your life reading list. Writers, generally speaking, search for what's trending in their own time for their literary work since it lets them illuminate the weakness or strength of the society.
Famous Book Quotes
"A classic is a book that has never finished saying what it has to say." ― Italo Calvino, The Uses of Literature
View More