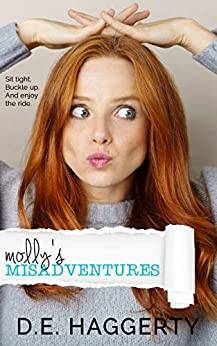 02/28/2021
I wish my vacuum cleaner sucked as much as dating. #datingsucks #datingfail #isthissupposedtobefun

When my life implodes, my girlfriend decides she has the perfect answer to all my problems - Internet dating. I wish she had warned me before my first date showed up at the door! Note to self: Never let my former best friend near my computer again.

Okay, fine. I'll go on some stupid dates to shut the woman up. I'm sure dating for the first time in my thirties will be tons of fun and not embarrassing at all. Yeah, right.

If I'm being totally honest with myself, there's only one man I want - my next-door neighbor Danny. The boy I've been crushing on since I was a dorky, braces-wearing, nose-buried-in-a-book teenager. He's definitely not a boy any longer. Oh no, he is one fine man. And I do mean F-I-N-E fine. He's also a single dad to an adorable little girl. Challenge accepted.

Buckle up, sit tight, and hit BUY NOW to follow Molly on her (mis)adventurous way to love.

This laugh out loud single dad romance features a newly single woman forced back home to take care of Mr. Grumpy Pants aka her father, a single dad next door she's only slightly obsessed with, and a best friend who doesn't understand the meaning of boundaries.

Digital Books

Those books that give you pleasure and laugh, we could declare them Comedy or Funny Books. Humor is a funny thing that can allow you to improve your work-life balance. Pinpointing exactly what an individual will discover funny is not a specific science. There are many different varieties of comedy, but what makes it funny is a matter of opinion. Comedy books differ from person to person since some people find them humorous while others don't. There are thousands of comedy books available in the offline or online market. Comedy books will keep you away from all-day tensions or problems that you have in your life.
Famous Book Quotes
"Of course I loved books more than people." ― Diane Setterfield, The Thirteenth Tale
View More