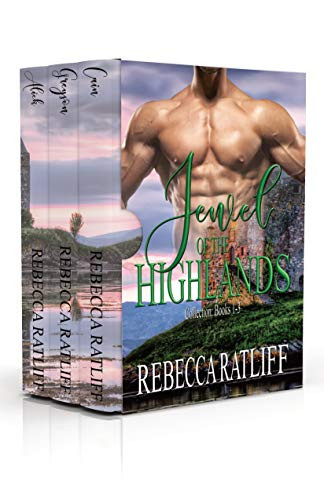 02/21/2021
This is a collection of the first three book in the series, Jewel of the Highlands. Contains books one, two, and three.
Book one: Cain
Kristen and Tessa, best friends since childhood, embark on the trip of a lifetime. Together, they travel to Scotland to enjoy the wonders of the highlands along the River Ness. It was during their second night of their vacation that they entered an antique store that caught their attention. There, under glass of an old counter and even older shop owner, a beautiful green stone had demanded their attention. Liza, the one in charge of the stone, must then figure out which woman is to receive the gift that the gem holds. Could it be possible? Could the Jewel of the Highlands carry two women to the past?

Excerpt:
They walked quickly, both ready to shed their day clothes and get as comfortable as humanly possible. There was also the need to hurry as it had already been dark for a few hours and the streets weren't as busy as they'd been when they entered the restaurant.
"Here, have your 'magic' stone." Kristen gave her friend a deep nod as she took one of the gems. "But this one is mine! And no matter what, this is my new good luck charm." Kristen laughed as she watched Tessa pucker up as she brought it to her mouth.
Kristen looked down to pull the zipper on the pocket of her jacket, and had just plopped her stone inside when she heard Tessa's coffee cup fall to the street. "Way to go, grace. You're not getting mine," she pulled the zipper closed, "but we'll stop before we get to the...,"
Kristen turned to see coffee spilled on the brick road, and her cup rolling slowly back and forth, empty. Yet, Tessa was gone. "Tess?" She turned around completely in a circle, looking all around in a small panic. "Tessa!" People walked by as if Kristen didn't just lose her friend in thin air. "Tessa! This isn't funny!" Kristen ran to the nearest store and opened the door. "Tess!" There were only two people inside and they stared in shock at the intrusion. She simply closed the door and ran back to the coffee spillage. "I swear to God.. Tess! Tessa!" Silence.

Book Two: Greyson
Greyson has finally come face to face with the woman who will own his heart. Daisy is excited to spend time with her potential mate, but a secret decision to do so will cost her more than she could have imagined.
A fatal mistake is made by one of the clans, and one woman may never forgive the man in question.
Join Kristen, Tessa and Daisy as they navigate their new lives in the manors that hold the men of their dreams.

Book Three: Alick

Alick and Heather are finally given their chance at happiness, but it may be too soon for one of them.
A possible mate's life hangs in the balance, and everyone rushes to find help. Will they reach her in time?
Follow Kristen and Daisy as they navigate the past while missing one of their dear friends.

In general words, the paranormal literary fiction genre comprises beings and happenings beyond the world of normal scientific comprehension of the natural world. Novels in the fiction genre are all put in the actual world. However, they comprise experiences that defy scientific explanation. For instance, stories put on earth contain angels, demons, witches, psychics, witches, etc. If you love to read some books with ghosts and angels, you must add this category to your reading list. Many books available in the market come under the Paranormal Genre, and you can buy them online or offline.
Famous Book Quotes
"Never trust anyone who has not brought a book with them." ― Lemony Snicket, Horseradish
View More