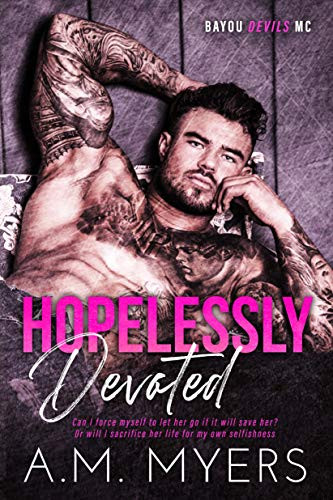 02/23/2021
Logan "Storm" Chambers, Vice President of the Bayou Devils MC, is no stranger to pain. He's been to hell and back and after suffering through loss after loss, he is broken, closed off and angry - a shell of the man he used to be. The only comfort he finds is in the work the club does to fight for those who cannot defend themselves and it's enough to keep the lurking darkness at bay. But just barely.

After being cheated on by her boyfriend, Alison James has no interest in dating. It's more hassle than it's worth if you ask her and she's more concerned with advancing her career than getting caught up with another man who will only break her heart. But when her mysterious neighbor crashes into her life, quite literally, Alison is intrigued.

The attraction between them is instant and their chemistry is palpable but as Logan and Alison try to navigate their budding relationship, Logan's past comes back to haunt him, putting Alison in danger and pulling Logan back into a hell he thought he had escaped years ago.

I hope you might be surprised to know that Suspense isn't a genre in and of itself since it is a category that includes mystery, thriller, as well as some horror books. That novels which have a suspense story comes beneath the suspense group. If you're like to read novels that give you Suspense, then this category is right for you. To put it differently, if we discuss Suspense, then Suspense is a condition of psychological uncertainty, stress, being undecided, or being doubtful. At a dramatic function, Suspense is your expectation of the results of a plot or the remedy to a doubt, mystery, or puzzle, especially as it impacts a personality for whom you have sympathy.
Famous Book Quotes
"The best books... are those that tell you what you know already." ― George Orwell, 1984
View More