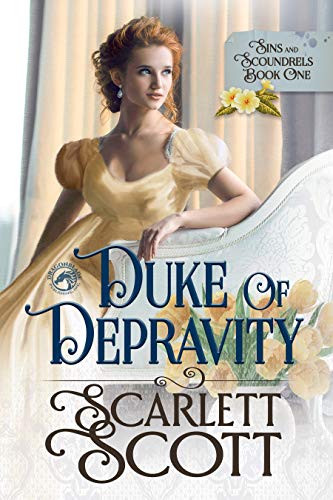 02/21/2021
Book One in an exciting new Regency Historical Romance series from bestselling author Scarlett Scott...

A duke with demons and a governess with secrets collide in this passionate tale!

Crispin Ashforth returns from battle the newly inherited Duke of Whitley with two sisters under his charge. Publicly lauded as a hero, he is haunted by the bitter mission that nearly saw him killed and cost the life of his best friend. He's desperate to drown out the demons tormenting him by any means, regardless of how depraved.

All he needs to do is find a proper governess for his hellion sisters so he can drink and wench himself into oblivion. Enter Miss Jacinda Turnbow, who is as lovely as she is prickly. It doesn't take Crispin long to realize he's found precisely the sort of distraction he needs in the prim governess.

But Jacinda has secrets of her own, and she's no ordinary governess. To save herself and her father from ruin, she has agreed to infiltrate the duke's home and search for evidence that he's a traitor.

Resisting his advances grows more difficult by the day, however, as she discovers there's more to Crispin than the careless life of sin he's cultivated. And the greatest danger she faces is losing her heart to the man she has no choice but to betray.

Purchase or read for FREE in Kindle Unlimited!

Historical fiction is a literary genre in which the narrative takes place in the past. Historical books capture the particulars of the time as correctly as possible to get authenticities, such as societal norms, ways, habits, and traditions. Historical fiction is put in a real location during a culturally recognizable moment. The facts and the actions from the narrative can be a mixture of real occasions and ones in the writer's creativity as they fill in the gaps. Characters may be pure fiction or based on actual people. But what about them and their look and attitudes, how they talk, and issues that they face, everything which should match the era.
Famous Book Quotes
"She read books as one would breathe air, to fill up and live." ― Annie Dillard, The Living
View More