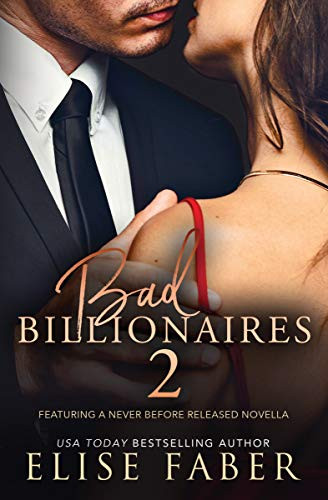 02/21/2021
Bad Hookup
Hookups weren't for her.

Rachel knew that. She was a good girl—sigh—she'd always been a good girl.

Except when it came to him.

She'd met the him in question in a bar of all places and his lean strength, gorgeous face, and way-too-charming personality had combined to shatter her defenses. All of a sudden she'd been doing all of those "dangerous, bad girl" things her grandmother had once warned her of.

And just like her grandma had predicted, he'd vanished come morning.

No note. No exchanged numbers. She hadn't even known his name.

Fine. Whatever. Rachel had chalked it up to a horrible—albeit, wholly pleasurable—mistake and moved on. She was the assistant to Heather O'Keith, a kick ass, take-no-prisoners CEO of a billion dollar corporation, she didn't have time to sit around and worry over a man.

But then Heather had gotten her happily ever after by marrying equally successful business entrepreneur, Clay Steele, and Rachel discovered that she had to work in close, day-to-day contact with him.

Sebastian Henley. The man from the bar. The sexy, gorgeous, irresistible disappearing man from the bar.

And he still made her want to do bad, bad things.

Bad Divorce
Bec Darden was a high-powered attorney who had spent her entire adult life building a fearsome reputation both in the courtroom and the boardroom.

But once upon a time, she was also a naïve and romantic—aka idiotic—soul who'd married her college sweetheart on a whim just before graduating. She and Luke were young and in love and—

No surprise, her marriage had been short-lived.

Explosive. Miserable. And incredibly, incredibly short-lived.

But now Luke Pearson was back in her life and with the worst possible news. Her marriage, the one she'd almost immediately regretted, and the subsequent divorce she'd paid through the teeth for by working insane hours and basically not sleeping for several years hadn't happened.

As in she was still freaking married.

Luke had been sexy in high school, gorgeous in college, but he was even hotter as a grown man and his reappearance in her life hadn't done anything to dampen the attraction she felt for him.

But Bec had already learned that sex wasn't everything. One broken heart was enough, and she wasn't in the market to give Luke another chance at shattering her all over again. He needed to sign the divorce papers she drafted and leave her to her life.

Except . . . what did they say about best laid plans?

Because Luke wouldn't sign.

Bad Fiancé
Sera used to believe in happily ever afters.

Well, she still believed in them. Just not for her.

For Seraphina Delgado, finding a man who loved her for who she was inside, rather than simply appreciating her outward appearance, had proved to be impossible.

She wasn't trying to be cocky—cock, ha¬—but she was beautiful. So beautiful, in fact, that she'd spent her childhood and tween years modeling and shooting commercials and . . . well, only being appreciated for the way she looked.

And that was more curse than advantage because looks faded. People aged, wrinkles formed, boobs sagged . . .

Anyway, none of that mattered because no man ever saw who she truly was on the inside.

Until Tate.

He was more interested in software than her cup size and had hired her to help him find a house. He didn't care about her looks or her boobs, only her abilities as a real estate agent.

But then he showed up in her office with a crazy proposition. One so crazy, it almost made sense.

He wanted them to get married.

And Sera thought she just might agree.

Those books that give you pleasure and laugh, we could declare them Comedy or Funny Books. Humor is a funny thing that can allow you to improve your work-life balance. Pinpointing exactly what an individual will discover funny is not a specific science. There are many different varieties of comedy, but what makes it funny is a matter of opinion. Comedy books differ from person to person since some people find them humorous while others don't. There are thousands of comedy books available in the offline or online market. Comedy books will keep you away from all-day tensions or problems that you have in your life.
Famous Book Quotes
"The love of learning, the sequestered nooks, And all the sweet serenity of books" ― Henry Wadsworth Longfellow
View More