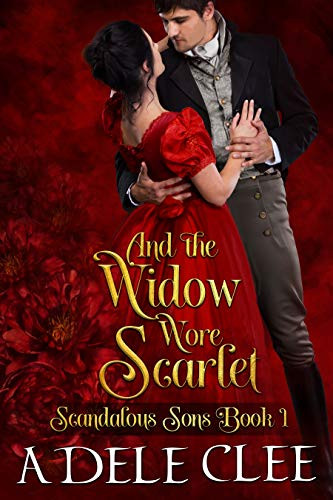 02/20/2021
Discover a heart-warming romance, a thrilling mystery and an exciting journey for two people who never thought to find love. Meet the first Scandalous Son and the woman who tames him in this new series by Adele Clee.
A chance meeting changed everything.
Damian Wycliff, the illegitimate son of the Marquis of Blackbeck—and notorious rogue—loathes most people. With a heart as dark as his Mediterranean looks, his cynical view of the world is challenged when a woman comes to his aid in a dark alley. In his world, kindness is a rare quality. Was that why he made the rash oath, a sworn promise to play the knight errant should she ever need assistance?

The lady calls in the debt.

Having spent three years wondering what happened to his mysterious saviour, Damian is horrified to discover the angel who saved his life is none other than the scandalous Scarlet Widow—a lady he should despise along with the other fake people who hide behind masks. So why can he not shake the memory of the sweet woman whose benevolence touched his heart? Why is he desperate to discover if she still exists beneath the daring disguise?

A promise never forgotten.

Someone wants Scarlett Steele dead. After surviving the numerous attempts made on her life, she no longer knows who to trust. But one man made a vow—a solemn promise to come to her aid. So when she seeks the help of the devilishly handsome Damian Wycliff, it soon becomes apparent that she isn't the only one hiding behind a façade.
Does Wycliff possess the means to save her if the villain strikes again?
Will lowering their guards give them both a chance of finding true love?
This book contains steamy sex scenes and the occasional use of obscenities.
Historical fiction is a literary genre in which the narrative takes place in the past. Historical books capture the particulars of the time as correctly as possible to get authenticities, such as societal norms, ways, habits, and traditions. Historical fiction is put in a real location during a culturally recognizable moment. The facts and the actions from the narrative can be a mixture of real occasions and ones in the writer's creativity as they fill in the gaps. Characters may be pure fiction or based on actual people. But what about them and their look and attitudes, how they talk, and issues that they face, everything which should match the era.
Famous Book Quotes
"Books are mirrors: you only see in them what you already have inside you." ― Carlos Ruiz Zafón, The Shadow of the Wind
View More