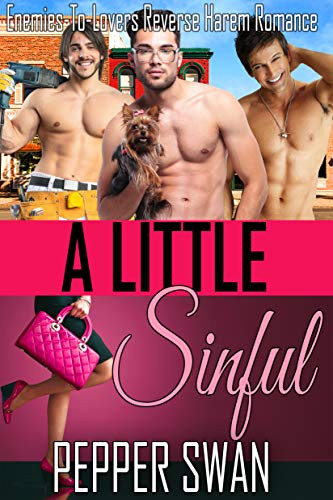 02/26/2021
My step-cousins were off limits… or were they?

I hadn't seen my three step-cousins, Anton, Beau, and Galen in more years than I could remember, and now that I'd returned to my hometown of Cricket, CA, seeing them all grown up with bodies that could only be matched by Adonis was equal to a religious experience.

We'd come together to restore a house that had been damaged in a recent flood, and to help with their stepmother's impending wedding… her fifth wedding.

Restoration and wedding duty forced us to tolerate and trust each other, and close proximity caused us to indulge in some wickedly sinful pleasures that threatened to spoil any hope we had for returning to our regular lives once the wedding was over.

How could we possibly bring this deliciously dirty affair into the light, when we were step-cousins… or were we?

A Little Sinful is a sizzling stand-alone, small-town, enemies-to-lovers reverse harem romance. It's rich with sexy ménage scenes, single and multiple partner scenes, and all done with a touch of humor that just might melt your Kindle. As with all my books, a HEA is always guaranteed… Thanks for reading!

Those books that give you pleasure and laugh, we could declare them Comedy or Funny Books. Humor is a funny thing that can allow you to improve your work-life balance. Pinpointing exactly what an individual will discover funny is not a specific science. There are many different varieties of comedy, but what makes it funny is a matter of opinion. Comedy books differ from person to person since some people find them humorous while others don't. There are thousands of comedy books available in the offline or online market. Comedy books will keep you away from all-day tensions or problems that you have in your life.
Famous Book Quotes
"Outside of a dog, a book is man's best friend. Inside of a dog it's too dark to read." ― Groucho Marx
View More